Lights for Ukrainian Christmas
In late 2022, Russia's armed forces commenced military attacks on Ukraine's power infrastructure. Deliberate targeting of energy facilities is estimated to leave up to 10 million people in winter darkness. [1] With the power supply partially cut off, municipal administrations had to introduce energy rationing to ensure the continued work of critical infrastructure facilities. Residents faced suspended or limited operations of public transportation, banks, gasoline stations, mobile networks, and water supplies in multi-story buildings. 
Energy rationing left Ukrainian households only several hours of power supplies within a day. To improve their living conditions in the winter months, Ukrainians started buying portable power stations: a chargeable battery unit designed to powerhouse lighting, kitchen utensils, small work equipment, and other fixtures. As demand for such power stations increased, their prices on Ukraine's domestic market, limited for imports due to the continuing Russian invasion, began to rise. Many Ukrainian families were unable to buy an individual power station due to financial constraints.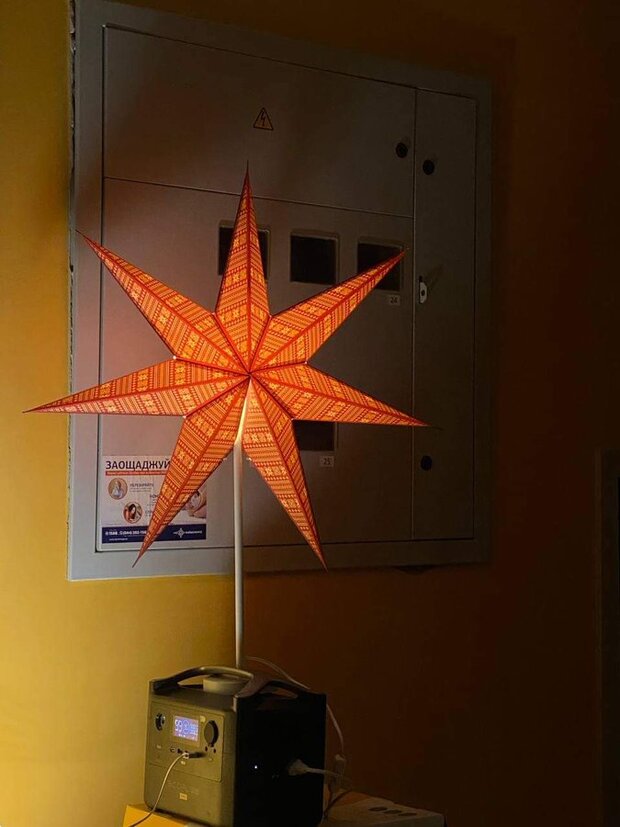 An idea to collect money to purchase power stations came from Viktoriia Solohub. Late in the cold November evening, she shared a picture of a dark corridor in a residential building in Kyiv with a bright Christmas star shining. "We were hiding in a corridor of a multi-story house during another Russian missile attack. Our neighbors' kids were scared of darkness and air radar sirens. Their parents lit the Christmas star to calm them down", – she explained. This star, which helped these children to live through a Russian missile wave, was powered by a portable power station. To help more people find the light amid Russia's military aggression, the European Resilience Initiative Center launched a donation campaign Lights for Ukrainian Christmas.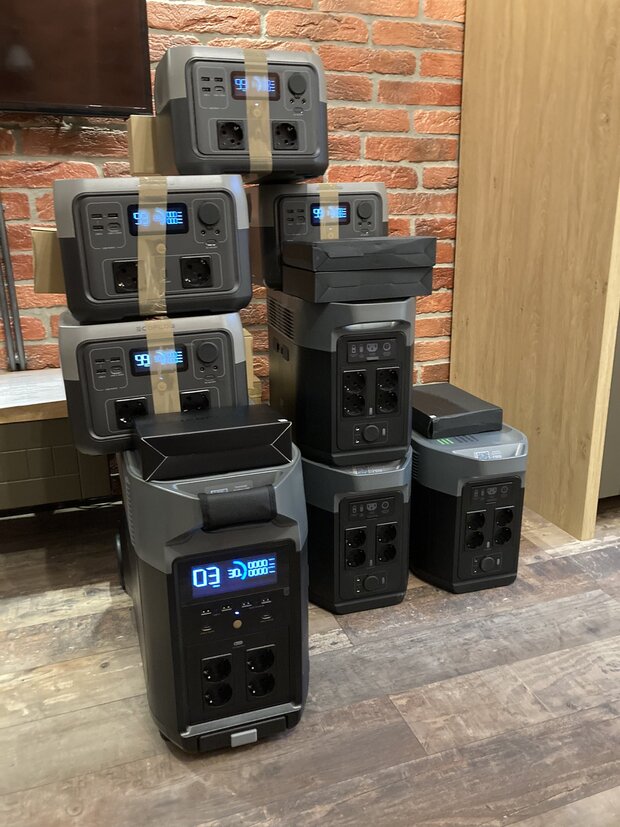 The European Resilience Initiative Center managed to collect over €13,000 within just 10 days. Your donations were used to buy: 
4 compact EcoFlow River Max 2

3 medium EcoFlow Delta Max

A large EcoFlow Delta Pro station with a 3,600 watt capacity and weight of 45kg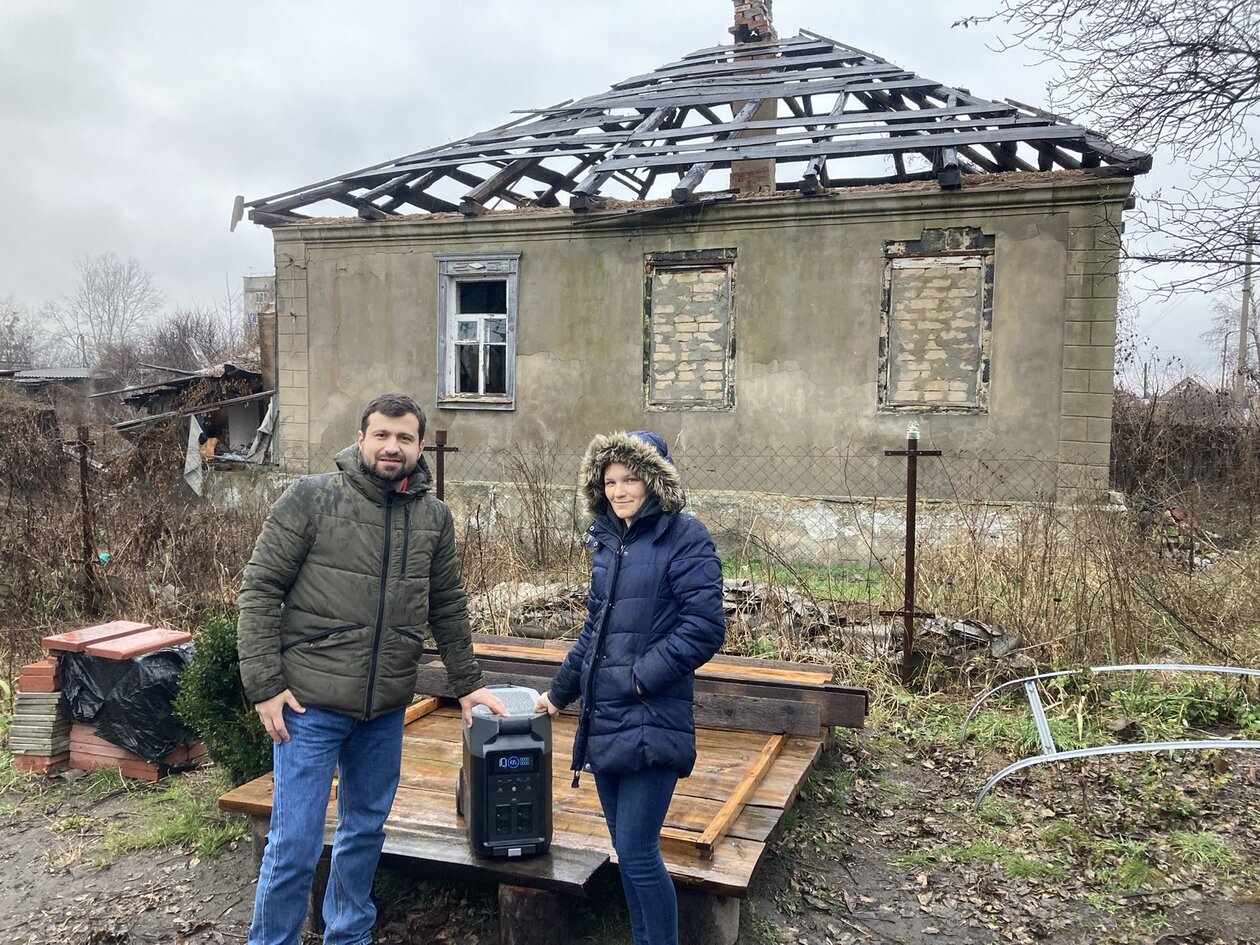 European Resilience Initiative Center
Your trust in our Lights for Ukrainian Christmas campaign helped purchase individual power stations to a family with children in Kyiv, a civil society activist working with environmental NGOs and war IDPs, two classes in a Kyiv school. The medium-sized batteries were delivered to the office of the union of journalists and authors PEN Ukraine, the children's shelter Ukrainski Rubezhi in Svitlovodsk, Kirovohrad region, and a mobile military medic team. The largest charging device was gifted to another office of the NGO Ukrainski Rubezhi, operating in the front-line town of Izyum, Kharkiv region.
Aftermath of a Russian strike in Izyum, Sergej Sumlenny, European Resilience Initiative Center
During Russia's occupation of Izyum, Russian soldiers destroyed musical instruments of a local band. The European Resilience Initiative Center replaced those musical instruments using the available overflow of donations.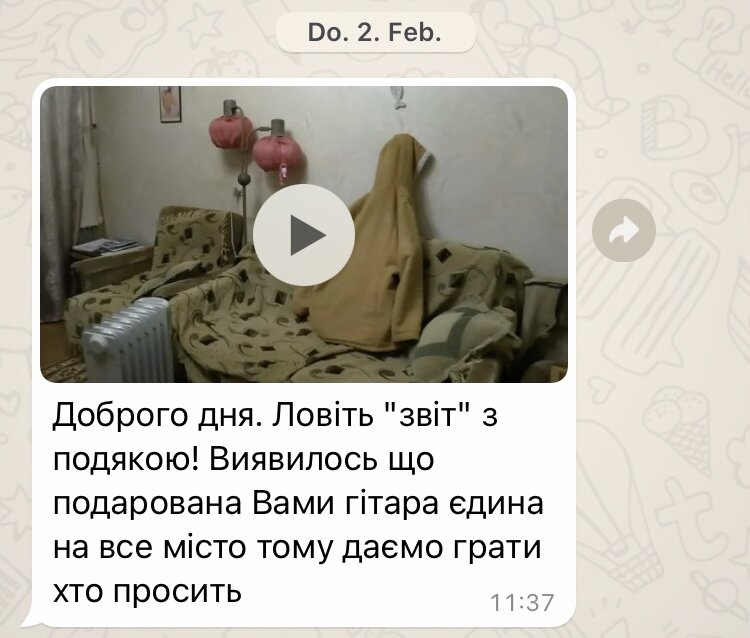 "We have found out that the guitar you have donated is the only available guitar at the moment in Izyum. We decided to permit anyone who wants to play the guitar to come and use it", - was the message received from Izyum. 
We want to thank every donor of the Lights for the Ukrainian Christmas campaign for your trust and help! If requested, we will provide detailed proof of how your donations were used. 
Consider donating to our next campaigns!