'Uprooted': Russia's Deportation of Ukrainian Children
Almost 20,000 Ukrainian children have been identified by the Ukrainian government as forcibly deported to Russia since February 2022. Ukrainian media outlet Kyiv Independent has produced a documentary on this mass deportation, marking it as the largest international crime of this kind since World War II. The European Resilience Initiative Center is one of the project's information partners.
The documentary, penned by journalist Olesia Bida and directed by Vitalii Havura, exposes the inner workings of the forced deportation of Ukrainian children to Russia and the occupied territories of Ukraine. According to the Convention on the Prevention and Punishment of the Crime of Genocide, deportation of children with the intent to transfer them to another ethnic or religious group constitutes genocide. In early 2023, the International Criminal Court (ICC) issued arrest warrants against Russia's President Vladimir Putin and Russia's Presidential Commissioner for Children's Rights, Maria Lvova-Belova, accusing them both of committing genocide by forcibly transferring Ukrainian children to Russia.
The Kyiv Independent film follows the story of a group of children known as Group 31, who had been taken to Russia from the currently occupied city of Mariupol in May 2022 and have not yet returned. Among them is Pylyp Holovnya, who was taken into the family of Maria Lvova-Belova, the presidential commissioner for children's rights in Russia.
Kyiv Independent's journalists obtained documents allowing them to trace 20 children taken to the Polyany sanatorium near Moscow. Although the documents claimed the children would be returned to Ukraine after a month, they were not brought back. Instead, Russia placed at least 14 of the abducted children in Russian families, while nine children were forcibly moved from Mariupol to Donetsk Children's Hospital №5 in occupied Donetsk for several months.
In collaboration with the children's families, journalists tried to find the deported children and establish contacts with them. Despite the fact that children wanted to return to Ukraine, their relatives often risked their lives to locate them.
"Ivan simply burst into tears over the phone and begged, 'Anton Viktorovich, I am begging you, take us from here.' Of course, after hearing those words, I had to go. I understood the risk," said Anton Bilay, the guardian of two boys from Mariupol, who risked venturing into occupied territories to recover his wards after they had been taken by the Russians. 
According to official Ukrainian data, since February 24, 2022, around 20,000 children have been kidnapped by Russia, although human rights activists believe the actual number could be much higher.
"At the time of the full-scale invasion, there were almost 60,000 children in Mariupol. Some parents managed to take their children to a safe place, others remained living under occupation, and some of these children were deported to Russia. Unfortunately, we cannot determine the exact number. When we began working on this investigation, I couldn't even imagine the scale of this crime," said Yevheniia Motorevska, the head of the Kyiv Independent's War Crimes Unit. As of July 10, 2023, according to the Ukrainian authorities, only 383 children have been brought back. This represents only limited success.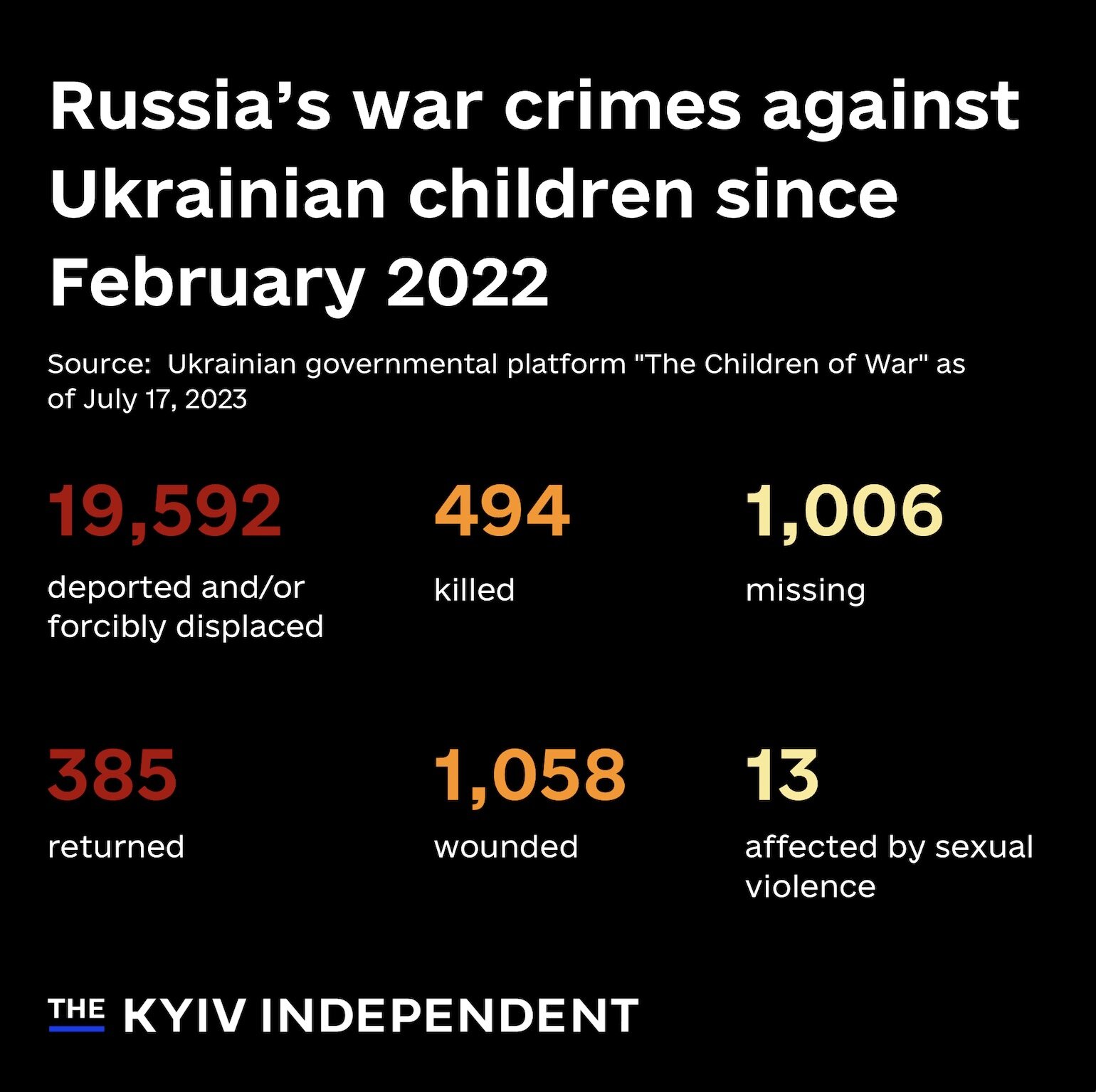 The full-scale deportation would not have been possible without Russia's supporters in the occupied territories, according to Kyiv Independent's journalists. "The investigation found that Svitlana Maiboroda, a former Ukrainian official who remained in Donetsk after its occupation by Russia in 2014, collaborated with Moscow to facilitate the children's deportation. Maiboroda is the head of the Russian proxies in Donetsk Oblast's children affairs department. Her subordinate, 29-year-old Kyrylo Potylitsyn, who served as the department's temporary acting director in charge of "children's rights," is also found to be responsible," state the investigation journalists.
"The Russians like to claim that they are actually saving Ukrainian children rather than deporting them. This is not true. They have established and fine-tuned a system of deporting children to Russia. Maria Lvova-Belova is not the only one behind this; doctors, social service workers, and even 'ordinary Russians' who take Ukrainian children into their families are participating in this war crime," stated the film's author, journalist Olesia Bida.
The documentary, "Uprooted," shares the stories of the children who were illegally deported from Mariupol, a city in Donetsk Oblast, to Russian-occupied territories. Information partners of the project include NGO "SOS Children's Villages," NGO "Ukrainian Network for Children's Rights," Ukrainian Helsinki Union for Human Rights, Coalition "Ukraine: Five AM," Regional Center for Human Rights, NGO "PR Army," NGO "Razom for Ukraine," Vitsche Berlin, United24 Media, European Resilience Initiative Center, NGO "YurFem," NGO "Docudays," and the Charitable fund "Save Ukraine."