The Time of Zeitenwende-Watchers
Germany has provided the world with many compound words, some of which express war terror, such as blitzkrieg. Others are harmless, like kindergarten. Only a few are associated with hope. The word Zeitenwende could have been one of them, promising an epochal shift in Germany's foreign and defense policy. But what real politics lie behind this catchy word, and how sustainable is the Zeitenwende?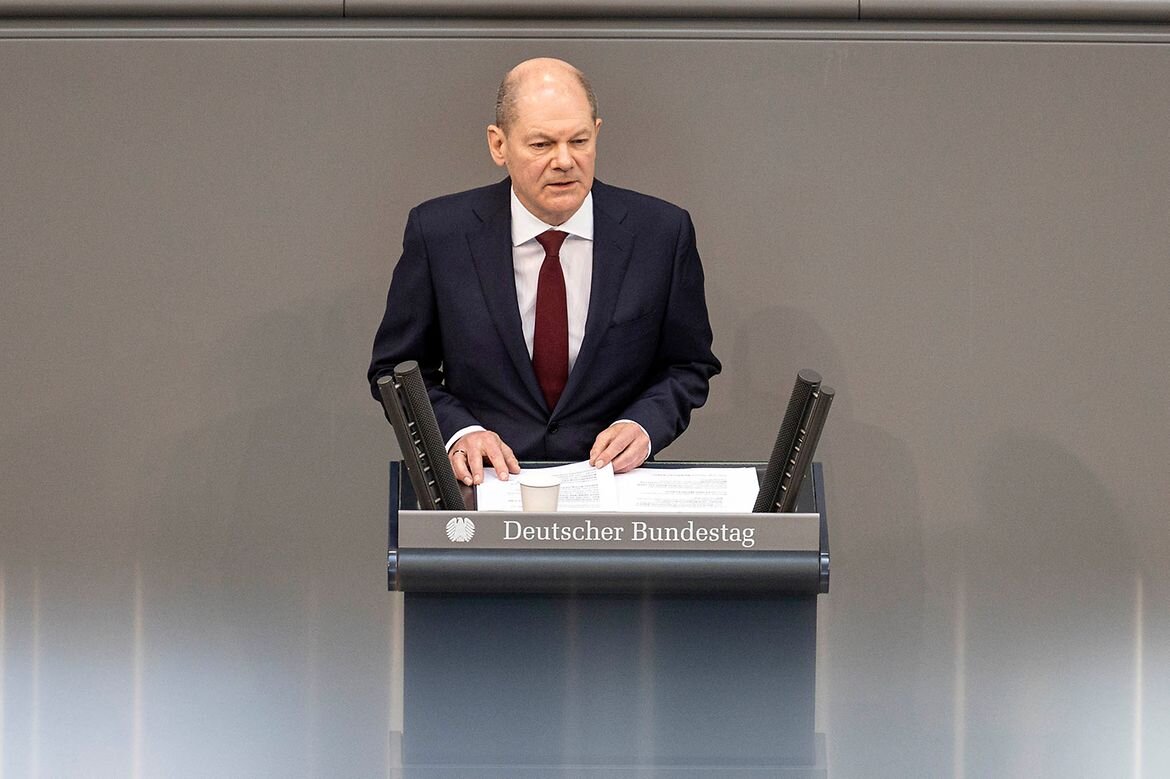 Chancellor Scholz delivering his Zeitenwende speech in front of the German Bundestag. Photo: Bundesregierung/Bergmann
The word Zeitenwende, literally meaning "a change of the times" or an epochal change, was first used by the German Chancellor Olaf Scholz in his speech in front of the Bundestag on February 27th, 2022, just three days after the Russian full-scale invasion of Ukraine. The speech was indeed epochal. For the first time, a German Federal Chancellor stated that Germany must put limits to Russia's expansion by force, and that there is no other answer to the current challenge than weapons deliveries to Ukraine.
But it soon became clear that the actual actions differed greatly from the words. This gap between Germany's announced readiness to provide Ukraine with weapons and the reality was tremendous. Although the overwhelming majority of the German parliament voted for the approval of heavy weapons delivery to Ukraine already on April 28th, 2022,1 almost nothing happened until the summer. In March, the German army attempted to deliver Soviet-produced Strela MANPADS to Ukraine after storing them for over 30 years. However, the first check revealed that 30% of the devices were damaged by mold.2 The first German self-propelled howitzers PzH2000 arrived to Ukraine on June 21st, 2022,3 four months after the start of the full-scale invasion. The first anti-aircraft systems Gepard arrived to Ukraine on August 8th, 2022.4 It took even longer for Germany to deliver much desired battle tanks. Although Ukraine repeatedly asked for tanks, pointing out that tanks and infantry fighting vehicles were essential for any successful offensive and, therefore, for the liberation of the Russia-occupied territories,5 Germany remained indifferent to these calls. It took almost a year from the start of the Russian invasion and unprecedented pressure from Poland, the US, the UK, and France combined to make the German Chancellor approve the delivery of Leopard 2 tanks to Ukraine in late January 2023.6 The first batch of German tanks arrived in Ukraine on March 27th, 2023.7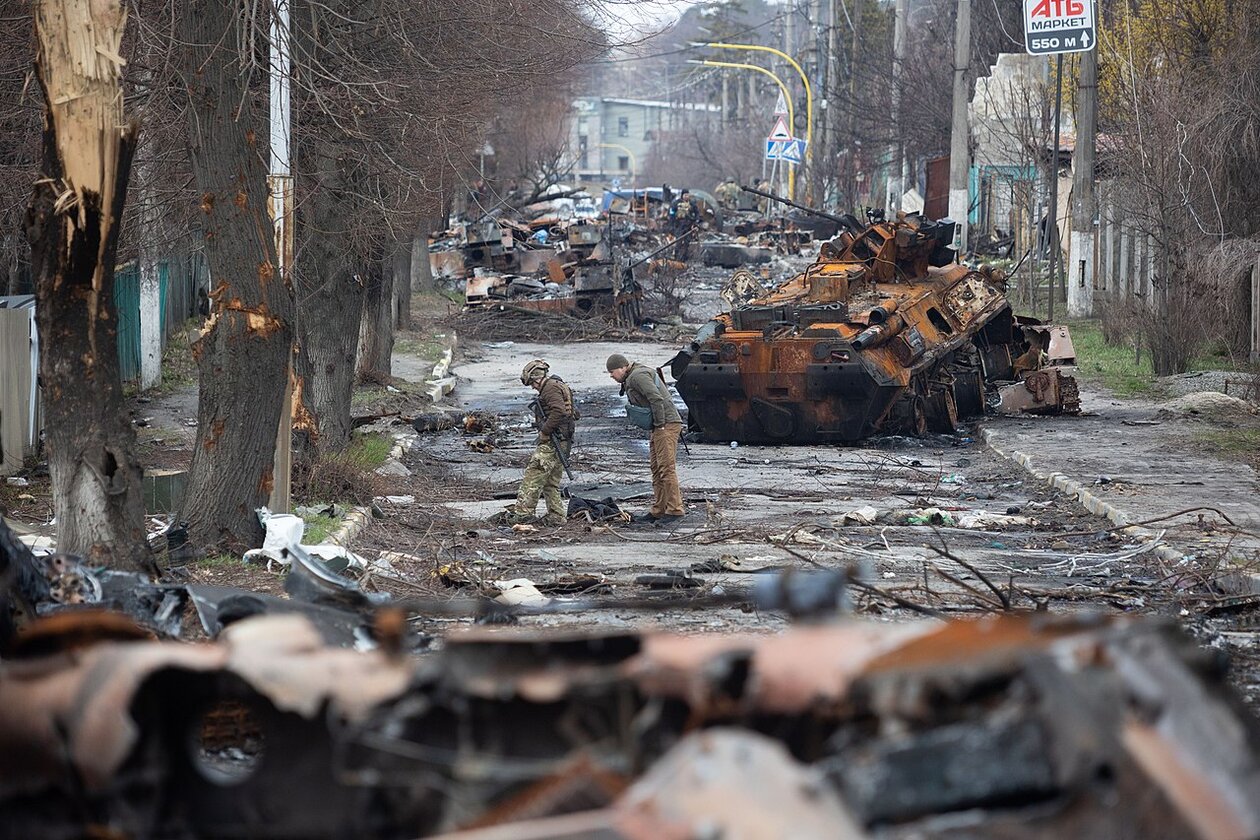 A column of Russian military vehicles, destroyed in Bucha in March 2022 by the US and UK anti-tank guided missiles. Photo: Office of the President of Ukraine Volodymyr Zelensky
Therefore, it is not surprising that Germany's Deputy Chancellor, Robert Habeck from the Green party, told Ukrainian President Volodymyr Zelensky during his visit to Kyiv in early April 2023: "it took too much time (to provide support to Ukraine), and the help came too late."8 It is important to remember that Robert Habeck was the first German politician to call for the delivery of defensive weapons to Ukraine already in May 2021, almost a year before Russia's full-scale invasion.9 It was also Habeck who pressured Chancellor Scholz in January 2023 to approve the Polish deliveries of Leopard 2 tanks to Ukraine.10
Given this, one needs to ask the question: what was the Zeitenwende, and how significant was it? Was the decision to deliver German weapons to Ukraine a sign of an all-German turn, or was it something else, just a shift in the balance between realists and lumpen pacifists in the German political discussion? And in any case, how sustainable is this change?
The fascination with the new German word creation and the attempts to interpret it in the language of politics are indeed enormous. A number of working groups named Zeitenwende has been created in Germany, such as the Zeitenwende initiative at the DGAP, the German Society for Foreign Policy, and the Munich Security Conference. Camille Grand, a policy fellow at ECFR and a former NATO Secretary General's assistant, sarcastically said that he made up a new German word, Zeitenwendebeobachter (literally "Zeitenwende watcher"), and named a whole cohort of German security experts as such.11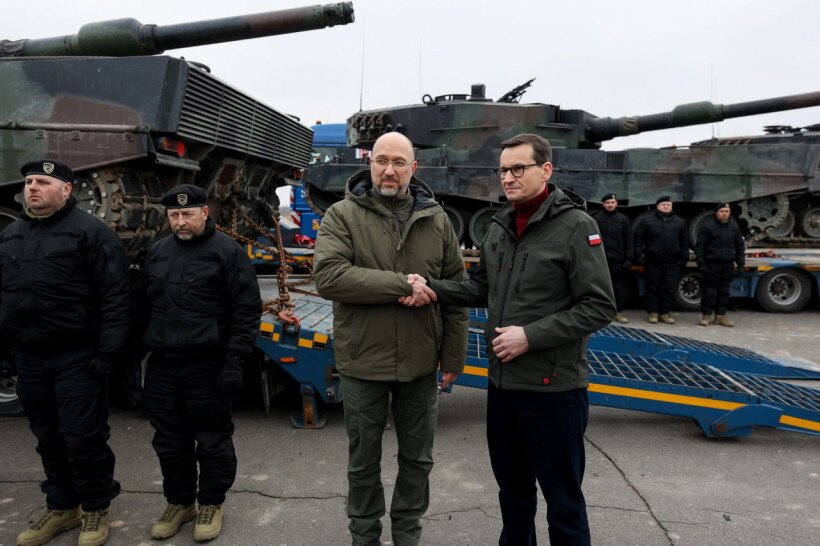 Ukrainian Prime Minister Denys Shmyhal recieves Leopard 2 tank from Polish Prime Minister Mateusz Morawiecki on February 24th 2023. Photo: Cabinet of Ministers of Ukraine
Analyzing wordings of political speeches can be fascinating. However, elaborating on whether the German chancellor chose the formula "we need to gurantee a Ukrainian victory" or only "we need to prevent a Ukrainian defeat" can be only suitably described with another German word, Kaffeelesen, or an attempt to read the future on coffee leftovers. Germany's foreign policy, as in any democratic country, is dictated by the German public. For years, Germans have demanded from their elected politicians to concentrate their effort on domestic policy and to neglect foreign security. In TV debates between candidates for the chancellorship, questions about pensions, school reform, infrastructure investments, and healthcare dominated. Foreign policy and security topics were mostly limited to questions on Islamist terrorism or energy security, briefly mentioned at the end of discussions.
The German public also demanded a radical anti-US foreign policy from their politicians. In 2019, 50% of Germans believed that the US poses a danger to Germany, while only 33% named Russia as a danger.12 Also 50% of the Germans saw the NATO expansion as a danger, a massive gap in Germany's and other Central European countries' percepcton of NATO, the US, and Russia.13 This perception has changed dramatically in 2022. In the Munich Security Conference's annual Security Index, Russia has jumped by 25 positions to the first rank among all the threats, including the climate change or mass migration, in a perception of the Germans. Seventy-eight percent of Germans named Russia the world danger number one.14 For comparison: 81% of Ukrainains and 66% of US Americans ranked Russia as the biggest danger, what, however, still sufficed to rank Russia as the number one threat. In the UK, Russia ranked second in the world threat ranking with the result of 77%. In a nutshell, the Russian invasion turned into a loud wake-up call for the German society, having forced it to reevaluate its perception of essential security questions.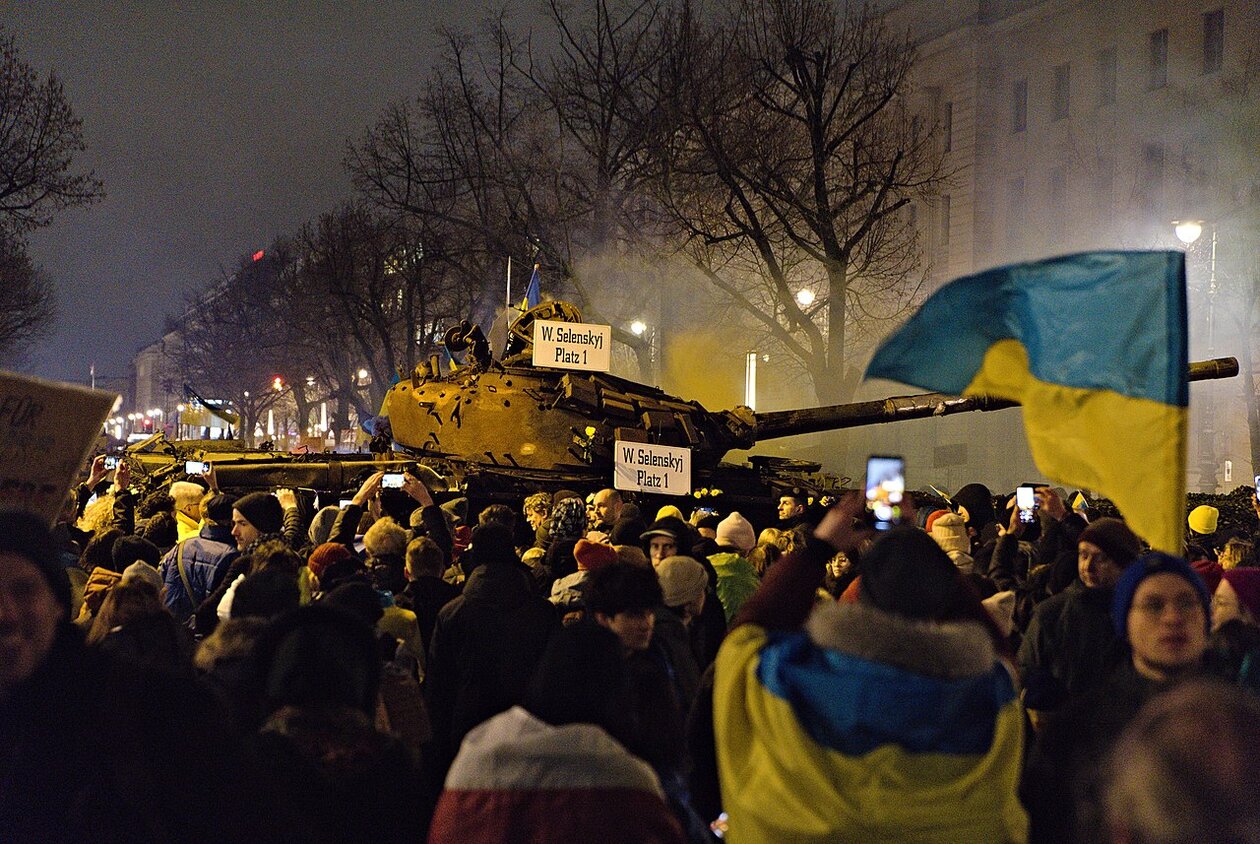 Berliners protest in front of the Russian embassy in Berlin, with a destroyed Russian tank, on February 24th 2023. Photo: Leonard Lenz, CC0 1.0
Already in March 2022, a majority of the Germans, or 56%, demanded to deliver heavy weapons to Ukraine demonstrating greater decisiveness than chancellor Scholz.15 This level of German support for changes in the country's foreign and security policy is overwhelming, considring that the most fierce opponents of weapons deliveries were supporters of the far-left Linke and the far-right AfD parties, who do not belong to political mainstream. In early January 2023, 66% of Germans supported deliveries of weapons to Ukraine, including 25% of those who even demanded larger weapon supplies.16  
An important barometer for the change of public opinion were the decisions of the political organizations to nominate their prize winners. In 2019, an influential, but Ukraine-ignorant selection committee for the German Aachener Friedenspreis (Aachen Peace Prize) has chosen a marginal Ukrainian leftist Holocaust denier Ruslan Kotsaba, as a prize winner. The likely choice explanation was Kotsaba's opposition to the Ukrainian army and lumpen pacifism. This nomination was revoked only after an international scandal and intervention by Ukrainian civil society activists. In 2023, Aachen's Aachener Karlspreis committee selected Ukrainian president Volodymyr Zelensky as the winner of its 2022 competition praising his fight against the Russian aggression.17
Impossible things have been happening in front of our eyes. The Germans welcome weapon deliveries to Ukraine, where these weapons will fight the Russians, an unthinkable public attitude even in 2021. One of the biggest weapon producers in Germany, Rheinmetall, is currently in talks with Ukrainian authorities on the possible construction of a tank factory in Ukraine. This factory will be able to produce the most modern Rheinmetall tank, Panther, whose engineering design is still in development.18 Just in 2015, Rheinmetall was constructing a high-tech training center for Russian troops in Mulino. This center later played a decisive role in creating Russia's perception of its military superiority.19 Russia's energy imports, deemed irreplaceable in Germany just a couple of years ago, have been reduced to zero: starting from January 2023, Germany does not buy any Russian oil, coal, or gas.20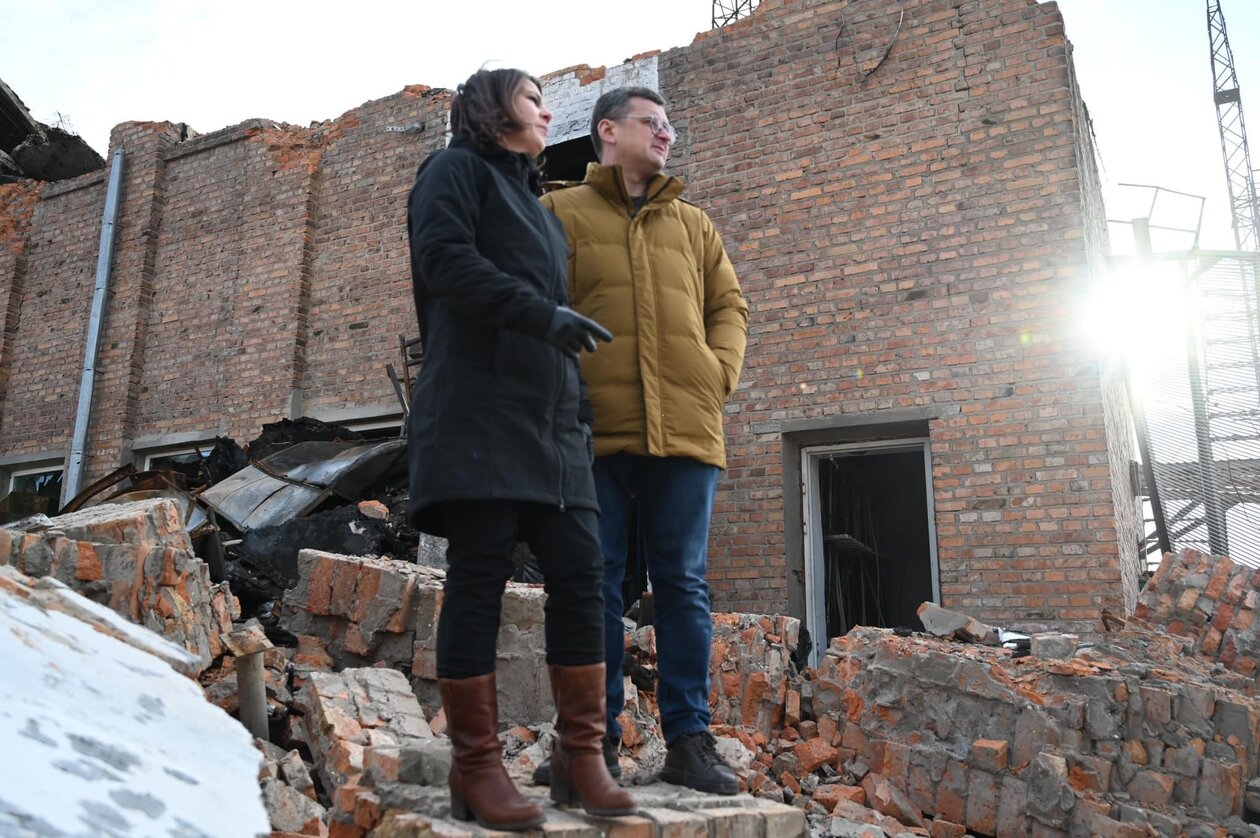 Germany's Foreign Minister Baerbock and Ukraine's Foreign Minister Dmytro Kuleba visiting ruins of Ukrainian Kharkiv after 11 months of Russian shelling. Photo: Ukraine's Ministry of Foreign Affairs
With Ukrainian flags fluttering over public buildings in Berlin and Munich, and with Germany-produced tanks prepared to be at the forefront of a Ukrainian offensive, can we say that the German change, the renowned Zeitenwende, can remain sustainable?
Until now, the biggest fear regarding the decline of German support for Ukraine was of an economic character. However, the successful steps taken by Robert Habeck's ministry of economy have broken the spell of Germany's gas dependency on Russia and prevented an unbearable surge of domestic energy prices. In January 2023, gas prices in Europe dropped to its 18-month low value, and natural gas was cheaper than in the summer of 2021, before the Russian invasion.21 This helped to silence those who tried to blame the Ukrainian fight for independence for German economic problems. Still, the danger of playing economic interests against sustainable security policy remains substantial. In January 2023, 56% of Germans said that Germany should not continue its financial support of Ukraine due to domestic economic challenges. This is a higher number compared to April 2022, as during the period of peak gas prices, only 47% of Germans expressed a similar attitude.22 It is likely that the initial emotional shock of the first months of the Russian invasion is over, and more Germans wish for some sort of a "peace solution" for the war, ignoring the reality of Russian terror.
It looks like Germany's support for Ukraine had a strong emotional component. It was not about the European, or NATO, security architecture but about ad-hoc steps needed to stop the Russian genocide of Ukrainians. That is why there is almost no discussion in Germany about new security alliances emerging in Central Europe, such as the rising military role of Poland. The fluctuations in German public opinion are strongly positively correlated with the success of the Ukrainian army. Every time Ukraine liberates a new region or city, the support level jumps, and after weeks of a new stalemate, the calls for negotiations get louder. Moreover, the ever-present fascination with Russia of the German leftists, religious pacifists, and business community has not disappeared. In early April 2023, amid traditional Easter pacifist marches, the former head of the Evangelic Church, Margot Käßmann, called for an immediate ceasefire in Ukraine practically demanding to guarantee Russia's control over the occupied Ukrainian territories and to block Ukraine's attempt to liberate its people and lands.23 At the same time, German media leaked talks between a top manager and member of the car manufacturer Porsche's supervisory board, Siegfried Wolf, and the Kremlin, which are claimed to evidence that Wolf had offered Vladimir Putin his help in reconstructing the Russian automobile industry.24
From this perspective, German support for Ukraine depends massively on whether the Ukrainian army would be able to demonstrate success during its spring or summer offensive operation. In addition, the future liberation of Crimea can lead to further criticism among Germans. Regardless of Germany's support of territorial integrity of Ukraine, the country's population widely believes that Crimea should be returned to Ukraine only as a result of negotiations with Russia. The German Zeitenwende remains a phenomenon, similar to the terminology of the German classic philosophy. Many have heard about it; many have used it to impress their audiences. But only few can explain what hides behind it, and if it is applicable to our daily lives. 
1. https://www.zdf.de/nachrichten/politik/bundestag-debatte-waffen-ukraine-krieg-russland-100.html
2. https://www.spiegel.de/politik/deutschland/strela-raketen-der-bundeswehr-weisen-erhebliche-maengel-auf-a-5260e48f-5977-4f0d-8f79-dac5f24ced94
3. https://suspilne.media/252550-ukraina-vze-otrimala-z-nimeccini-persi-panzerhaubitze2000-reznikov/
4. https://www.unian.ua/weapons/v-ukrajinu-pribuli-pershi-nimecki-gepardi-u-chomu-jih-osoblivist-ostanni-novini-11933622.html
5. https://www.economist.com/zaluzhny-transcript
6. https://www.dw.com/en/german-chancellor-olaf-scholz-defends-decision-to-send-battle-tanks-to-ukraine/a-64509633
7. https://www.unn.com.ua/uk/news/2020915-nimetski-tanki-leopard-2-pribuli-do-ukrayini-spiegel
8. https://www.faz.net/aktuell/politik/habeck-waffenhilfe-fuer-ukraine-kam-zu-spaet-18800583.html
9. https://www.zeit.de/politik/ausland/2021-05/robert-habeck-ukraine-waffen-die-gruenen-russland
10. https://www.welt.de/politik/deutschland/article243176421/Habeck-will-polnische-Lieferung-von-Leopard-Panzern-fuer-die-Ukraine-nicht-verhindern.html
11. https://twitter.com/camille_grand/status/1643198378853974017
12. https://www.fes.de/e/ein-weckruf-fuer-die-eu-wie-sicher-fuehlen-sich-die-europaeer-innen
13. https://www.zeit.de/politik/deutschland/2019-02/sicherheit-europa-bedrohung-usa-russland-sicherheitsradar-2019?page=2
14. https://securityconference.org/assets/01_Bilder_Inhalte/03_Medien/02_Publikationen/2023/Munich_Security_Index_2023.pdf
15. https://www.zdf.de/nachrichten/politik/politbarometer-ukraine-krieg-waffenlieferung-scholz-baerbock-habeck-100.html
16. https://www.rnd.de/politik/waffenlieferungen-an-die-ukraine-keine-mehrheit-in-umfrage-OK3W4VRL75FUH2RNS7YO5PXPDM.html
17. https://www.spiegel.de/politik/deutschland/aachener-karlspreis-2023-fuer-wolodymyr-selenskyj-und-die-ukrainer-a-c09844e8-4cf9-4d7d-9efa-2e6d0bf85714
18. https://www.reuters.com/business/aerospace-defense/rheinmetall-talks-building-tank-factory-ukraine-report-2023-03-04/
19. https://www.interfax.ru/russia/435225
20. https://www.tagesschau.de/wirtschaft/verbraucher/gaspreise-lng-russland-energiepreise-energieimporte-gas-101.html
21. https://edition.cnn.com/2023/02/17/energy/europe-gas-price-18-month-low/index.html
22. https://www.ipsos.com/de-de/ukraine-krieg-unterstutzungsbereitschaft-der-deutschen-brockelt
23. https://www.ndr.de/nachrichten/niedersachsen/Ostermarsch-Kaessmann-fordert-Waffenstillstand-in-der-Ukraine,ostermarsch442.html
24. https://www.spiegel.de/wirtschaft/unternehmen/russland-so-versuchte-ein-porsche-se-aufsichtsrat-mit-dem-kremlchef-zu-dealen-a-9d2779bf-9934-42f9-8bc8-741a844bc867