Living Under Russia's Occupation. The Locals' Tale
In spring 2023, a research team of a Ukrainian think-tank AMES led by Professor Oksana Mikheieva conducted a study in the territories of Kherson region, liberated from Russia's occupation. The research project aimed to analyze how an 8,5-month-long occupation affected Ukrainian communities residing on these territories. This impact was traced by studying how people lived during the occupation, what skills they acquired, how they resisted Russians, and what lessons should be learnt from their experiences. The AMES research team surveyed two focus groups and held a series of in-depth interviews with locals. This article, authored by professor Oksana Mikheieva and deputy director of AMES Serhiy Danylov, summarizes results of the study.
Information Hunger
Once the Russian army gained control over Ukrainian territories, it cut off all Ukrainian TV channels and means of communications. A Russian-controlled information regime blocked any information unauthorized by Russia for distribution. As a result, people began experiencing a so-called information hunger. People were constantly actively looking for information, such as updates about military successes of the Ukrainian army. Although there was a pseudo-abundance of information, most of it were unverified rumors, whose quality was either unreliable, or irrelevant to local needs.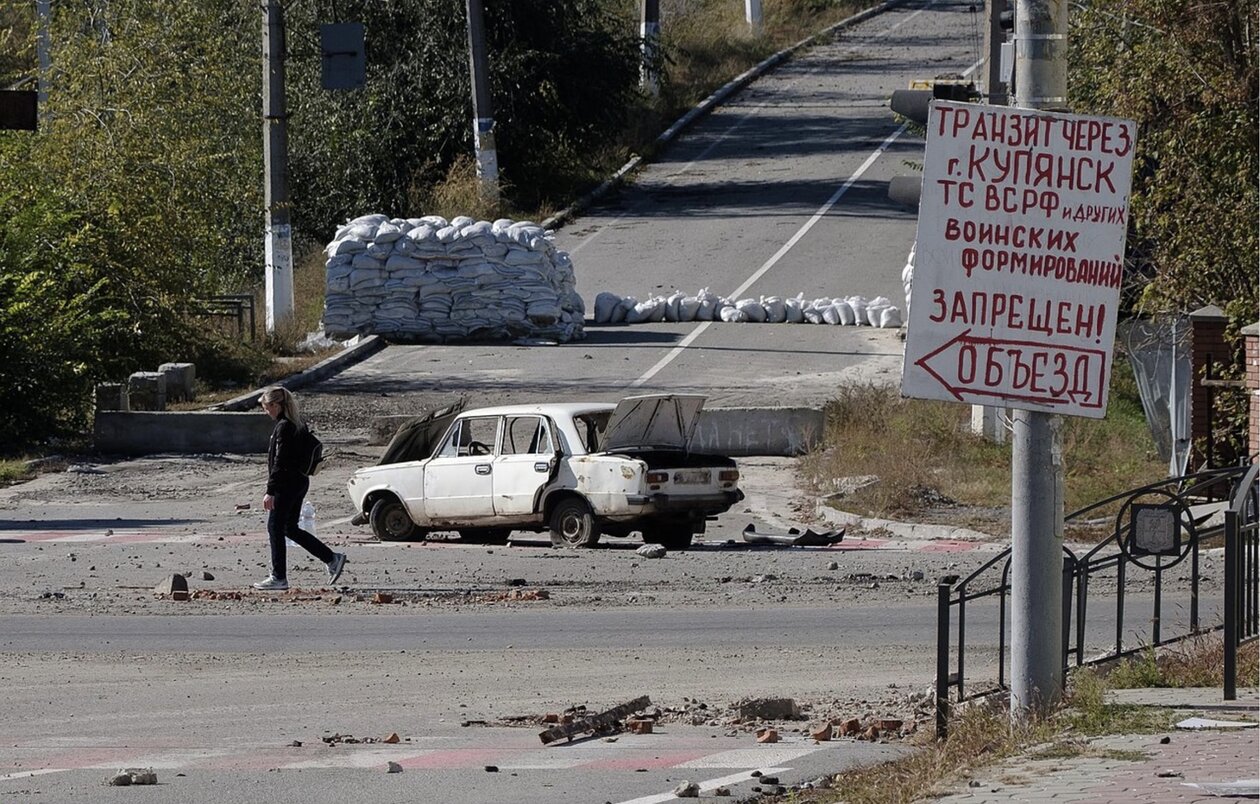 Russia-Occupied Kupyansk. Photo: Vitaly Nosach. CC-BY-4.0
A Russia-installed occupation regime pursued two main objectives by putting Ukrainian residents on an information diet. The primary narratives spread by the Russians aimed at dissuading any believes in the return of the Ukrainian government and at emphasizing alleged Russian military strength, power, and invincibility. One of key messages widely promoted by the Russians, for instance, was that Russia (has come here to stay) forever. Political messages encouraging the ideology of the Russia-Ukraine unity, common history, and Slavism ideology were omnipresent. A popular slogan was Ukrainians and Russians are one people. The occupation authorities also vowed to improve the region's social welfare. Their propaganda slogans were Pensions without poverty, Help for the farmers, Kherson region is an agrarian land, We will help you stand up from kneeling, We help the newborns, Social support for the families. By promising social benefits and higher-than-Russian wages, Russia's occupation regime sought to buy the loyalty of the people forced to remain under its territorial control.
To offset the information hunger and Russia's efforts to control information inflows, Ukrainian residents commenced collecting and comparing information obtained from formal and informal sources. An achievement of pivotal importance was restoring access to Ukrainian news sources, particularly via the ubiquitous use of VPN services. At some point in Kherson, for instance, young people went on the streets to help senior residents install VPN programs to bypass Russian blocking.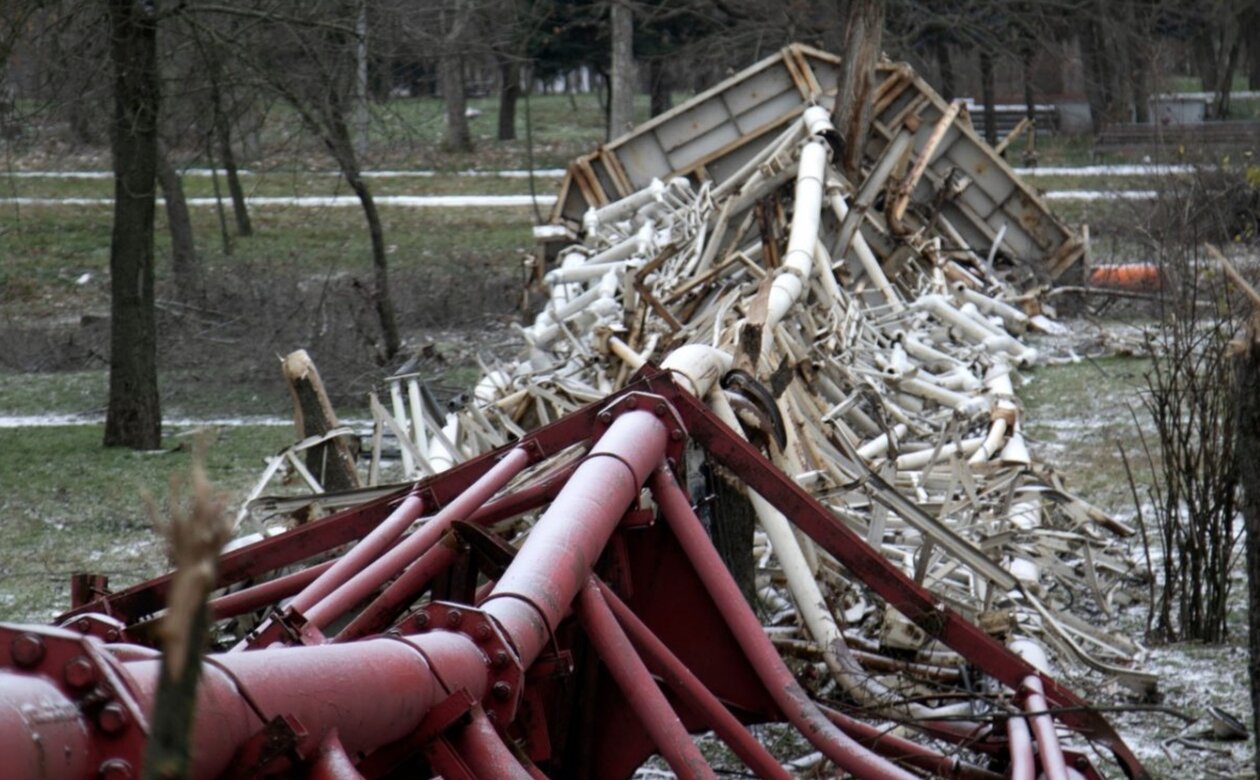 A destroyed TV antenne in Kherson. Dmytro Zavtonov, ArmiyaInform. CC-BY-4.0
Apart from looking for dry facts and news updates, people used this access to Russia-untapped information sources for emotional support. They tried to find information to keep their hopes alive. Contacts with people living in the Ukrainian government-controlled territories worked similarly. People living under occupation are experiencing a reality check crisis: they are caught up in the routine and could not get hold of a broader context. Despite the abundance of information, they cannot find answers to existential questions. This is how a focus group member described their experience: "We lived exactly as if we were in a pen, in prison, the only thing available for us was just to leave the house". Hence, maintaining contacts with Ukrainians on the government-controlled side of the front line helped people find moral support against despair and despondency.
New Social Competences and Skills
An information vacuum hindered people's threat assessment abilities. This boosted their social competences. People learnt how to look intently for signs that can help read another person and if they posed a threat. One of the special markers was a language those people used, a dialect, or an accent that allowed to differentiate friends from foes. Under Russia's occupation, Surzhyk, a mix of the Ukrainian and Russian standard languages, lost its negative connotation. Instead of being a marker of a poorly educated person, Surzhyk acquired a new respectful function, validating the fact that this person is a local person, and therefore trustful.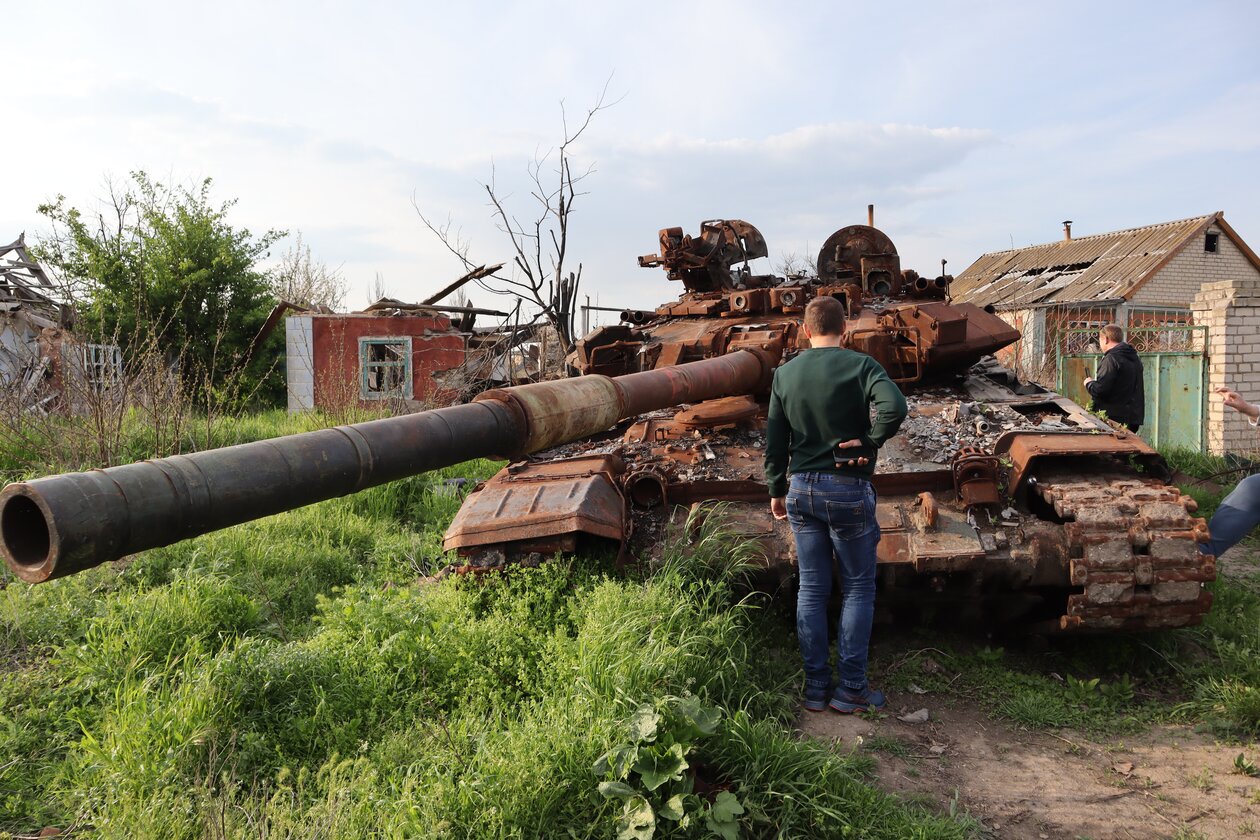 A destroyed Russian tank in Stanislav, Kherson region. Photo: Konstantyn Ovsiannikov (c)
Under Russian occupation, people also had to learn to estimate a degree of physical danger. These skills were necessary to decide whose army opened fire, what type of armament was used and, hence, if they should seek shelter. This information also became useful to counter Russian propaganda claiming that Ukraine's armed forces were shelling Kherson region. People acquired a skill of holding reasoned, evidence-based discussions to speak out against the opponents overtrusting Russia's propaganda messages.
Forced Contacts with the Occupants
Avoiding contacts with Russia-installed authorities, while living under occupation, was physically impossible for most inhabitants. These contacts occurred, for instance, during the distribution of humanitarian aid, one of the earliest measures organized by the occupiers, along with filtration processes. Survey respondents described the distribution of humanitarian aid as humiliating. The Russians are claimed to have regularly orchestrated conditions, which forced people to fight for humanitarian aid, and to video-recorded these fights for propaganda purposes.
There was no unified response from Ukrainians to the Russian humanitarian aid distribution. Among those who accepted it, some people supported the Russian occupation, some believed that accepting these supplies helped bleed out the occupiers' potential, and others perceived humanitarian aid as a compensation for having lost their jobs and other sources of income. At the same time, there were people who categorically refused to accept any Russia-distributed aid and did their best to avoid all contacts with the Russians, expect if fully coerced.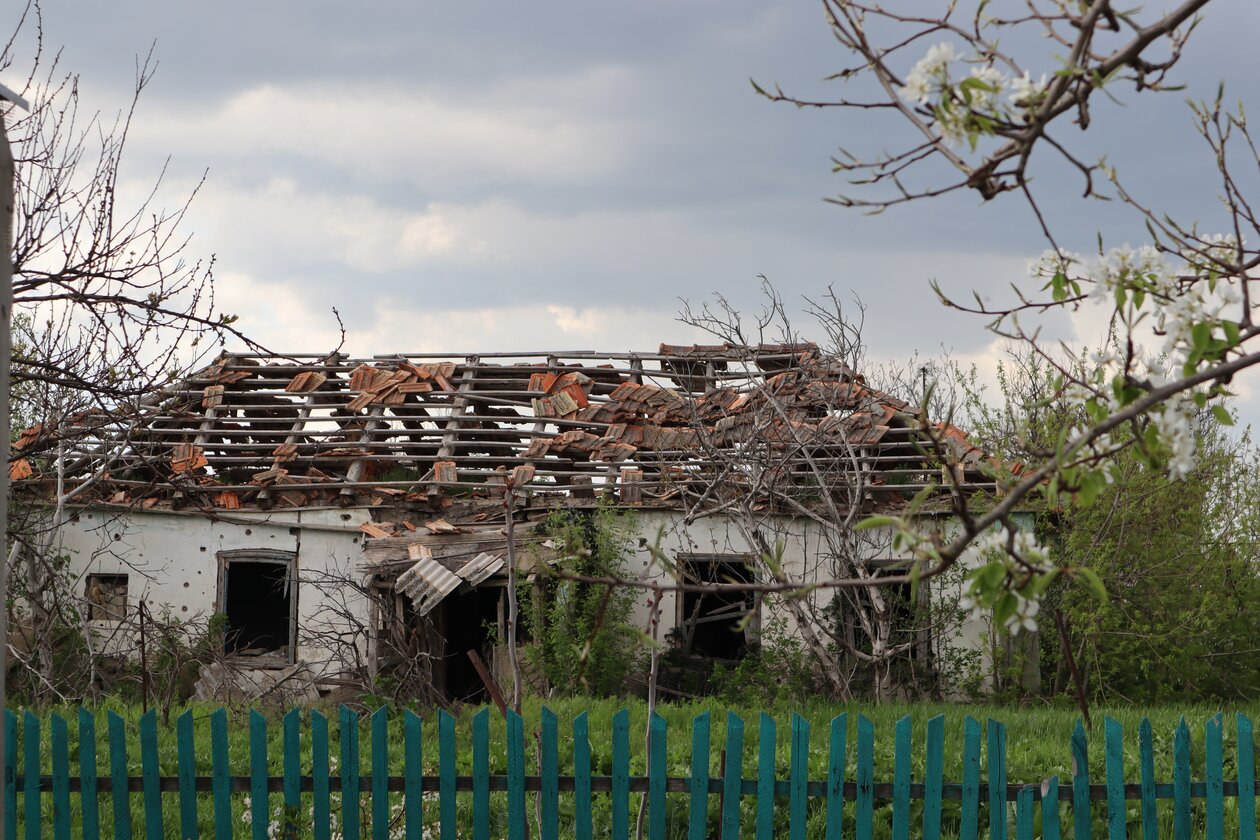 A Russia-destroyed house in Chornobaiivka, Kherson region. Photo: Konstantyn Ovsiannikov (c)
Collaboration with the Russians
Russia used Ukrainian collaborators, i.e., locals willing to work for Russian occupation authorities, as mediators in communications with the population. The collaborators were seeking to influence people by spreading Russian propaganda. For example, they tried to accuse the Ukrainian armed forces of shooting at the settlements, to exaggerate Russia's military might, to recruit locals for work with the occupiers, and to justify such voluntary cooperation with the Russians.
Survey respondents named money and power as the main reasons to start working with the occupation regime. Such a status upgrade changed behavioral dynamics in the population. An interviewee described non-verbal changes in a Russia-installed school director: "She started to walk through our village as a boss". Decisions to collaborate with the Russians were seen by pro-Ukrainian residents as betrayals, which drove a wedge between the locals.
Once Ukraine's armed forces liberated these territories, this societal division remained. Legally, many instances of these collaborations do not constitute crimes, such as trading with the Russians or consuming food and alcohol with them. However, those residents, who were at risks for refusing to have any contacts with the Russian occupants, now see even minor collaborations as misdeeds with an unfair lack of consequences.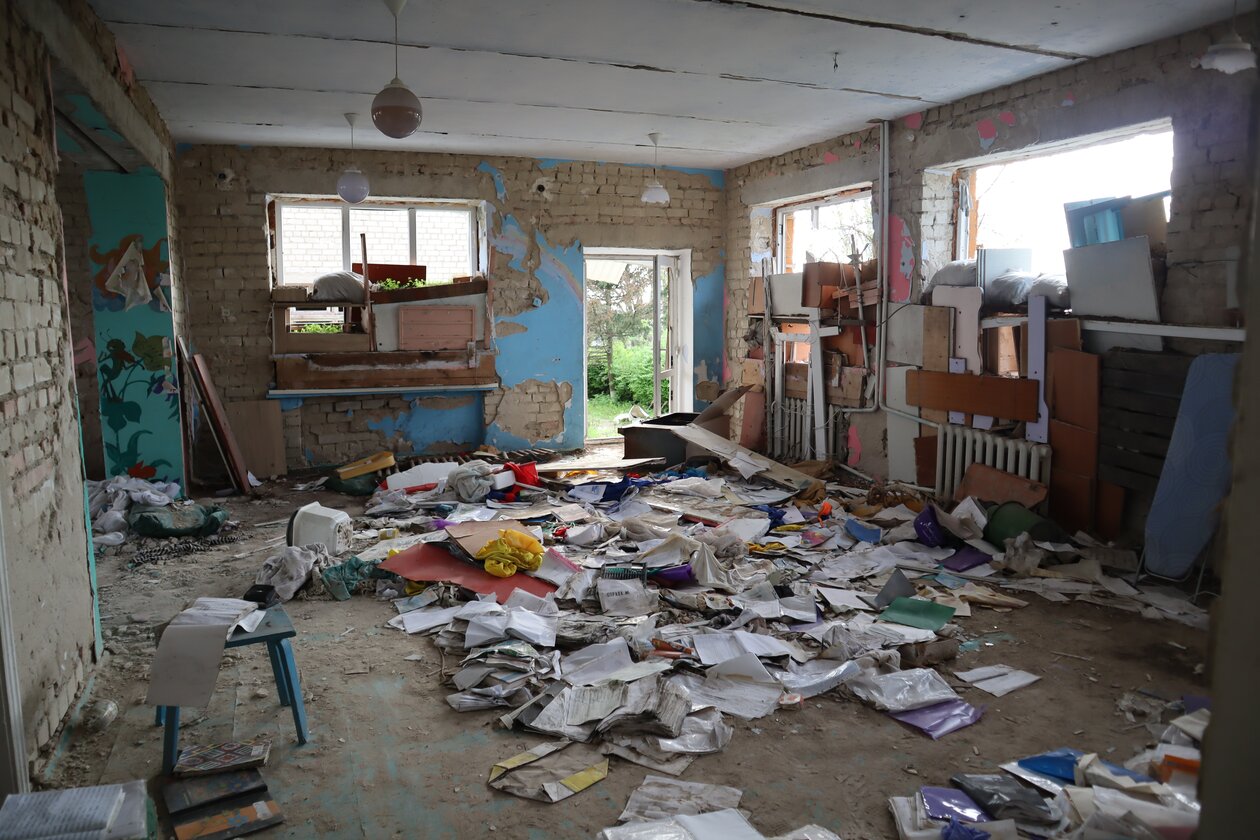 A Russia-destroyed kindergarten in Ukrainian Stanislav, Kherson region. Photo: Konstantyn Ovsiannikov (c)
Russian Terror
As Russians realized that they were not welcomed in Kherson region, they began exerting psychological pressure on the locals. In additional to mass repressions, Russian military personnel regularly raided houses, carried out searches, robberies, and other forms of deliberate and demonstrative destruction of properties. People returned home to find damaged doors, broken furniture pieces, ruined beds and linens, and a "signature" of the Russian occupiers – feces left in the middle of a room. These property destructions had no other meaning but to maintain psychological pressure and feelings of insecurity.
Nevertheless, Ukrainian communities continued to resist. Local grassroot organizations, for instance, temporarily replaced missing Ukrainian authorities by providing public services. This helped to decrease people's dependency on the Russian occupation regime. Grassroot organizations also maintained connections with people living in Ukrainian government-controlled territories and sought other means to challenge the occupiers' claim to be the only provider of humanitarian actions.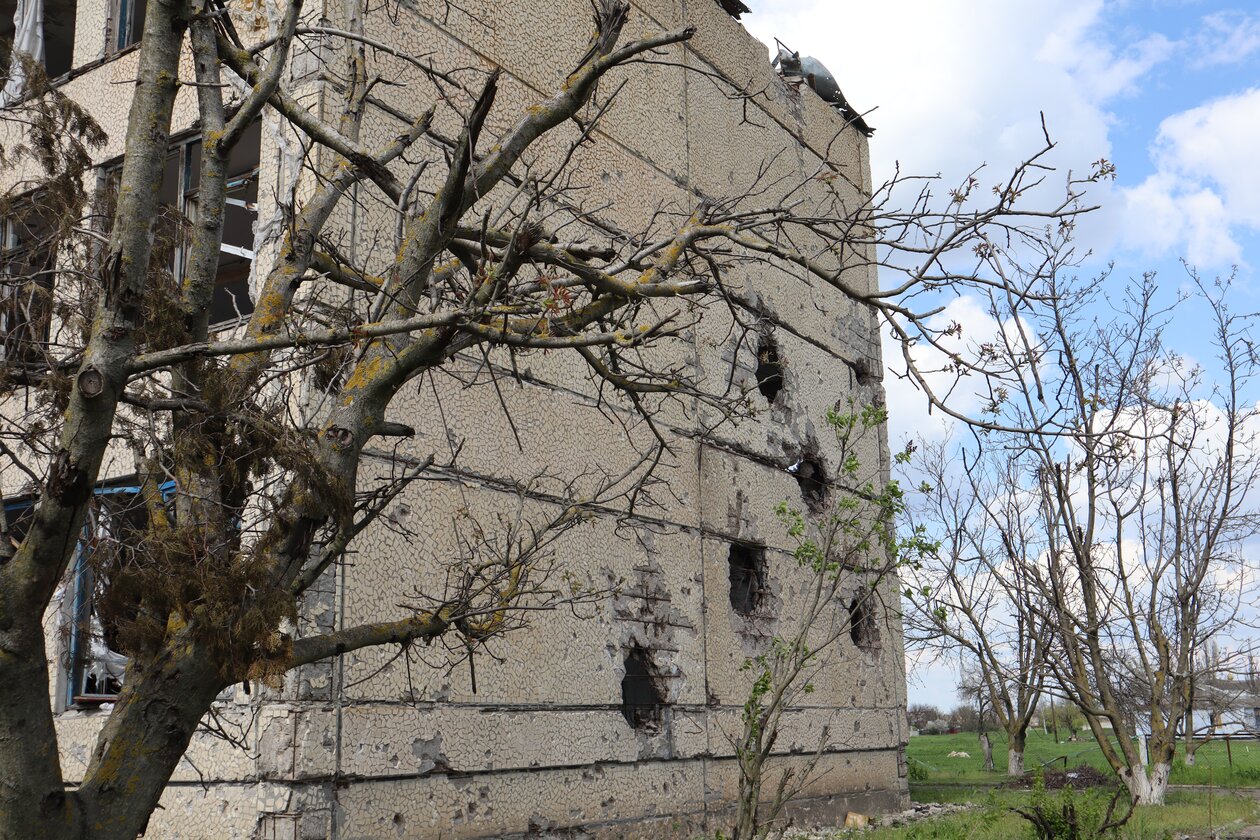 A destroyed residential building in Novovorontsovka, Kherson region. Photo: Konstantyn Ovsiannikov (c)
Resistance on Every Level
When asked about resistance, people remarkably responded that there was hardly any resistance in their settlements. It took further interviewing to realize that the locals perceived resistance exclusively as armed fighting. As subsequently established, their lives were filled with unarmed, but fierce opposition against the Russians for dominance in the symbolic space. People took down Russian flags to replace them with the flags of Ukraine. They graffitied Ukrainian symbols, shot down Russian drones, and wore Ukrainian traditional embroidered shirts. They fought for their right to speak the Ukrainian language, like an elderly man who began to purposefully speak Ukrainian in public spaces and to loudly encourage others to join.
This fighting, often full of symbolism, helped people continue claiming the Russia-occupied territories as Ukrainian. For example, an elderly woman, a unique expert in her field, agreed to work with the occupiers only after they said Glory to Ukraine. The occupiers had to comply. No less remarkable is a story of school teachers who refused to work with the Russians. Despite grave risks, they continued to secretly teach children at home using the Ukrainian curriculum. Or a couple who donated all Russia-paid social benefits to the Ukrainian armed forces.
Although both women and men actively resisted the occupiers, Ukrainian women became the face of the opposition. They were more active and mobile, likely due to the patriarchal nature of the occupying regime. Russian soldiers treated men as a menace but did not perceive women seriously. This helped diversify the means of expressing anti-Russian resistance and dissent.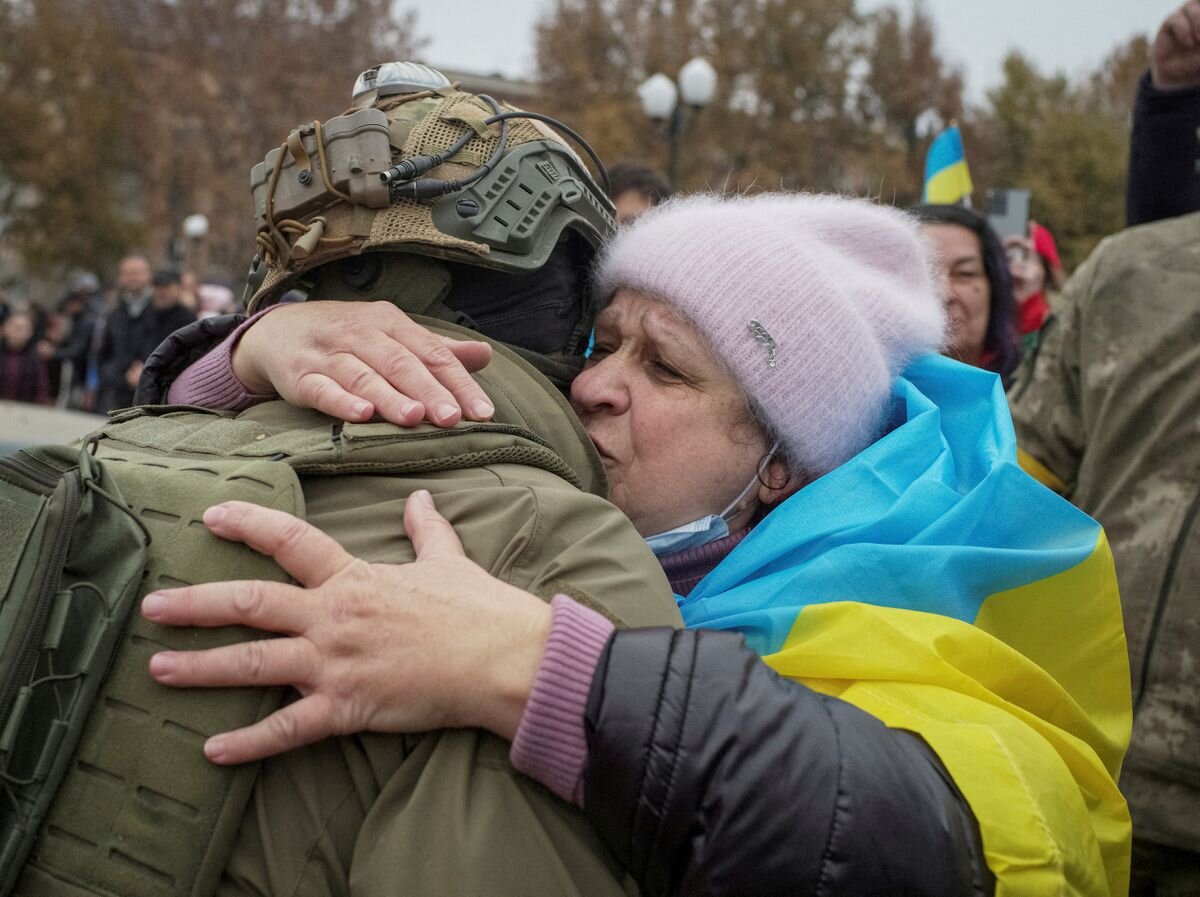 The liberation of Kherson in November 2021. Photo: REUTERS/Lesko Kromplitz
Under the Ukrainian Flag Again
Russia's 8.5-month-long occupation of Kherson region demonstrated the success of Ukraine's decentralization reform. Since 2014, Ukraine has been transferring larger power and resources to local communities. This practice of self-governance allowed the residents of the Russia-occupied territories to maintain their community networks, even when deprived from all basic rights. The elected mayors continued serving as respected leaders of the communities, which, in their turn, remained the source of power for all people. This feature of the Ukrainian society appeared to be puzzling for the Russians, who could not understand how people could refuse to accept a forcibly-installed Russian mayor.
Despite the occupation, the Ukrainian communities have demonstrated a high resilience level, an ability to self-organize, and to rely on informal networks. Even public institutions, such as schools, continued to effectively function despite being cut off from their national-level institutions. People also showed that the Ukrainian state, Ukrainian language, and Ukrainian culture were worth fighting for. There is no reason to believe that other territories, currently occupied by Russia, would manifest a different attitude.