Interview: "Germany's dependence on China is much greater than it ever was on Russia."
Mr. Sumlenny, with a volume of almost 300 billion euros, China is Germany's largest trading partner. There exists a trade balance deficit, meaning we import far more goods than we export. Is the same thing happening as with Russia?
Our dependence on China is much greater than it ever was on Russia. In the case of Russia – except for some companies that miscalculated their dependence on the Russian market – this mainly applied to natural gas, and here the current coalition government has managed to reduce this dependence in a very short time. With China, it's not just about trade volume and the exploitation of cheap forced labor, but also the fact that German companies in China also produce for export, meaning for non-Chinese markets. This never happened in Russia.What is happening now is the same as once in Russia, where German managers residing there simply ignored the crash course towards war before February 24, 2022. And we are heading towards the next conflict with China.
To what extent is this militarily dangerous?
Just one example: China produces very good drones. They are used by both Russia and Ukraine in the war, although China officially does not supply weapons to either country. Everything is done through third countries and front men. If one day the Chinese decided not to deliver these drones to Europe anymore, then Ukraine wouldn't receive any either. This currently shows not only an economic, but in an emergency, also a military dependence, because nobody in the West produces such drones at this price.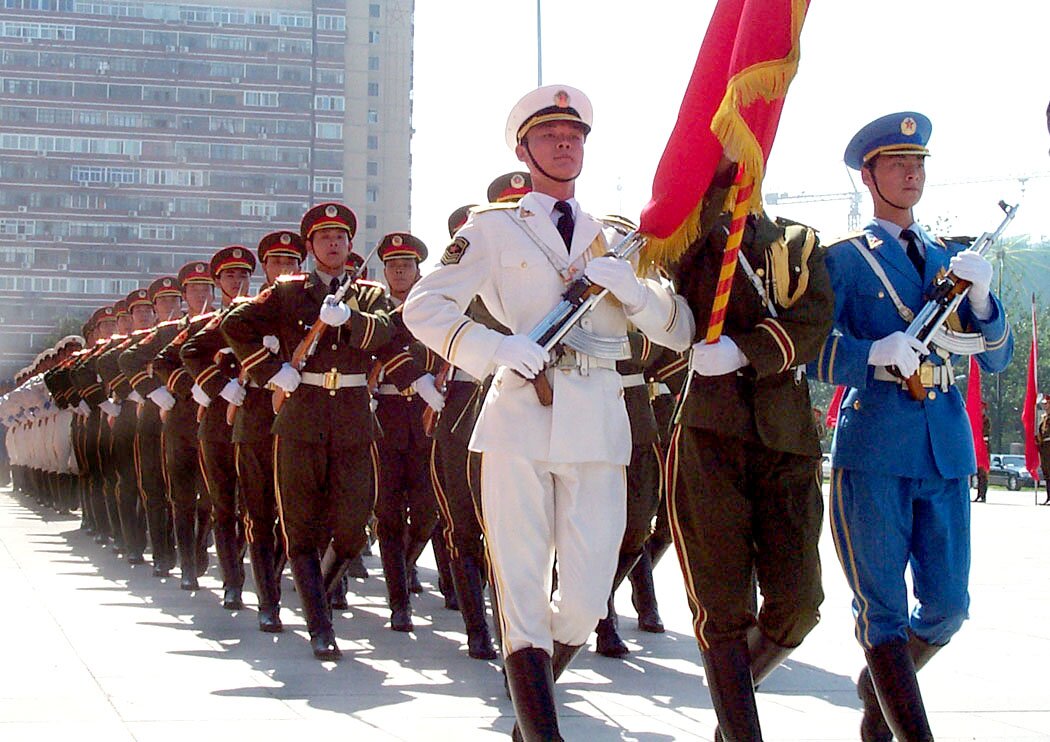 Unknown author, PLA Soldiers
What, in your opinion, needs to happen?
We can't get out of dependence on China as quickly as it happened in the case of Russia. We have maneuvered ourselves into a dead end. China has made certain German corporations hostages—in the worst case, accomplices. They exert domestic political pressure on our government to prevent it from adopting a tougher stance against China. This means Germany needs to act in two areas: in foreign policy, directly in confrontation, and in domestic policy, with companies that side with China.
For a dictatorship, an exit is always easier; it happens on orders from above. But in a democracy, you suddenly have demonstrations because plants are closing and jobs are being lost. In the worst case, your government may collapse, but the dictatorship is still there. We now export four out of ten new cars to China. 
How is that to be compensated? 
Clearly, China—it's one-fifth of the world population. We can't just say, we don't deliver there anymore. And conversely, China is also very important to us as a supplier of certain components, such as car batteries. There is no general solution.
It sounds like there is no longer any way to free ourselves from China's 'embrace.'
One must work long-term to roll back the dependency. It is tedious but not impossible. It's about finding new markets and different suppliers. If we continue to allow China to increase our dependency, we must expect that this will not be balanceable in a serious case. If, in the event of a conflict, China paralyzes our digital infrastructure with cyberattacks, what do we do then? What scenario do we have on hand? Are we then supplying weapons to Taiwan? Whatever the case: We need asymmetric means to ensure that China does not succeed in economically blackmailing us.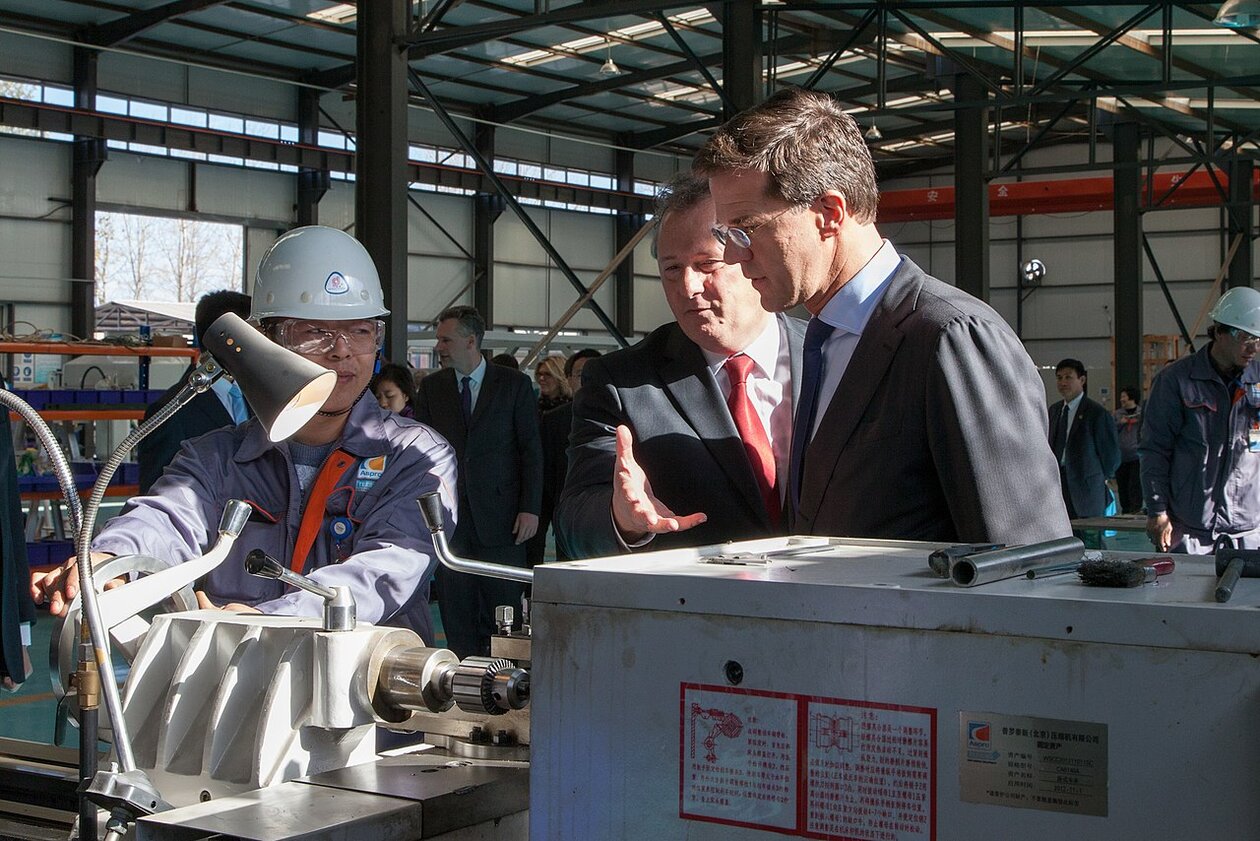 Dutch PM Rutte visits a factory in China, 2017. Photo: Dong Yue-Hang, CC-BY-2.0
How vulnerable are we then?
I believe there are generally some hostile activities by the Chinese on our territory. It's not just the intelligence services to mention but also, for instance, company takeovers. Companies are being bought and stripped, and the know-how is transferred to China. This doesn't even violate the rules of the World Trade Organization.
If there should be a major attack on our infrastructure, I believe that we will initially deny it and then play it down. Six weeks later, it will be confirmed that it was the Chinese. And then it's too late for a reaction. We lack the willingness to clearly envision how we would react in a serious case. And the adversary knows this and uses our passivity to expand the boundaries of what's feasible.
Germany's Foreign Minister Baerbock has put Chinese President Xi Jinping in a line with dictators like Kim Jong Un in an interview with Fox News. Is that the right tone?
One can certainly ask whether it is wise to say such a thing on television. However, this is a discussion about trivialities that is so popular in Germany. The important thing is: Annalena Baerbock has said nothing that is not also in official Chinese documents. The constitution states that China is a proletarian dictatorship. German foreign policy has been characterized by absolute sterility for years. Yet all attempts to express oneself as polished and diplomatically as possible have not helped, as we can see in the case of Russia.
Even Baerbock declared at the beginning of 2022 that arms shipments to Ukraine were not possible due to Germany's historical responsibility. If all states had acted like this, Ukraine would have been occupied by now. Therefore, German politics had to change its tone significantly. It is important that we name the bad guys in this world, be it Russia or China, and assertively represent our values. Anything else leads to nothing.