How the West Tolerated Russia's Kidnapping of Ukrainian Children
The International Criminal Court accused Russia's President Putin of war crimes against Ukrainian children allegedly committed at least from the 24th of February, 2022. This article argues that Russia started the practice of kidnapping Ukrainian children as part of the infamous Russkiy Mir (Russian World) concept already in 2014 .
On the 17th of March, the International Criminal Court (ICC) issued arrest warrants against Russia's President Vladimir Putin and Russia's Presidential Commissioner for Children's rights Maria Lvova-Belova.1 The ICC accused both Putin and Lvova-Belova of committing war crime by unlawfully deporting Ukrainian minors from Russia-occupied areas of Ukraine to the territory of Russia. The importance of this ICC decision stems from the fact that this is a first-ever warrant of arrest issued against the leader of a UN Security Council permanent member state.
Unlawful deportation of the population violates the Rome Statue of the International Criminal Court and constitutes a crime of genocide as described in the UN Convention on the Prevention and Punishment of the Crime of Genocide. Article II of the Genocide Convention states that those, who forcibly transfer children from one group to another, are guilty of genocide, if these actions are "committed with intent to destroy, in whole or in part, a national, ethnical, racial, or religious group".2 Russia's transferring of Ukrainian children fits the description of attempting to erase their ethnical identity.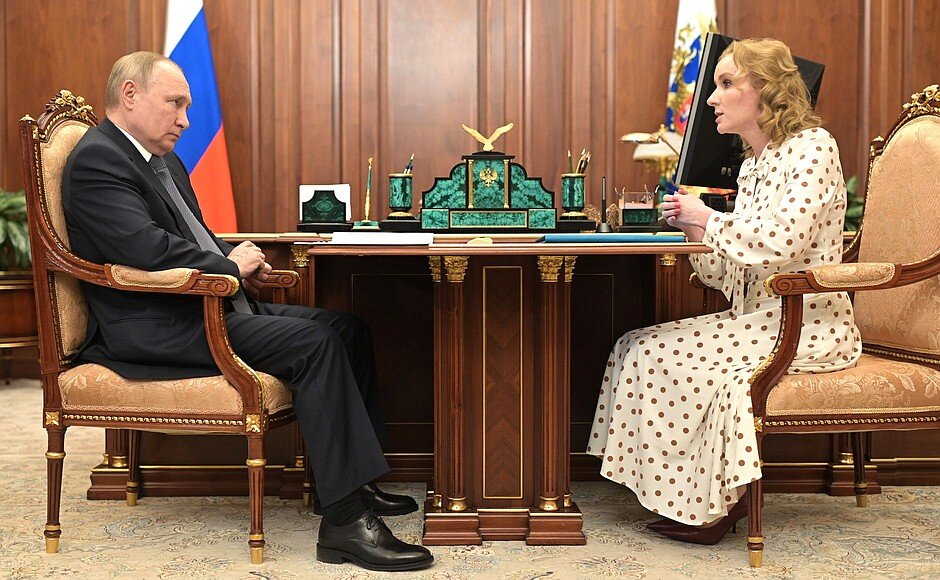 ICC-wanted criminals Vladimir Putin and Maria Lvova-Belova. Photo: Kremlin.ru
Russkiy Mir as a Doctrine of Re-Education
The ICC arrest warrant should be praised with a caveat: the crimes of unlawful transfer of Ukrainian minors to Russia started not in 2022, but in 2014. This practice of forced relocation of the local population is an essential part of the Russkiy Mir (Russian World) concept, which Russia began to implement at least in 2014. This Russkiy Mir concept is a Russian vision of its foreign policy envisioning that anyone speaks Russian belongs to Russia, regardless their citizenship. Following this logic, Russia perceives Russian-speaking Ukrainians, adults and minors, as Russian nationals, who either forgot, or never realized their belonging to Mother Russia. To help them do that, Russian authorities devised an indoctrination algorithm into this Russian ideology. Minors appeared to be long-hanging fruits, whose indoctrination deemed as a rather fast and noble process.
Practical implementation of this Russkiy Mir indoctrination idea began in schools of Russia-occupied Ukraine's Donbas region in 2014. Russia-appointed municipal authorities replaced all schoolbooks in the Russia-occupied territories with those provided by Russia. Special emphasis was placed on substituting any history-related books. Children were brain-washed to believe that Donbas is a geographic part of Russia, populated exclusively by Russians. Alongside with conventional school classes, school introduced classes for patriotic education "to teach" Ukrainian minors how a Russian national should serve their country.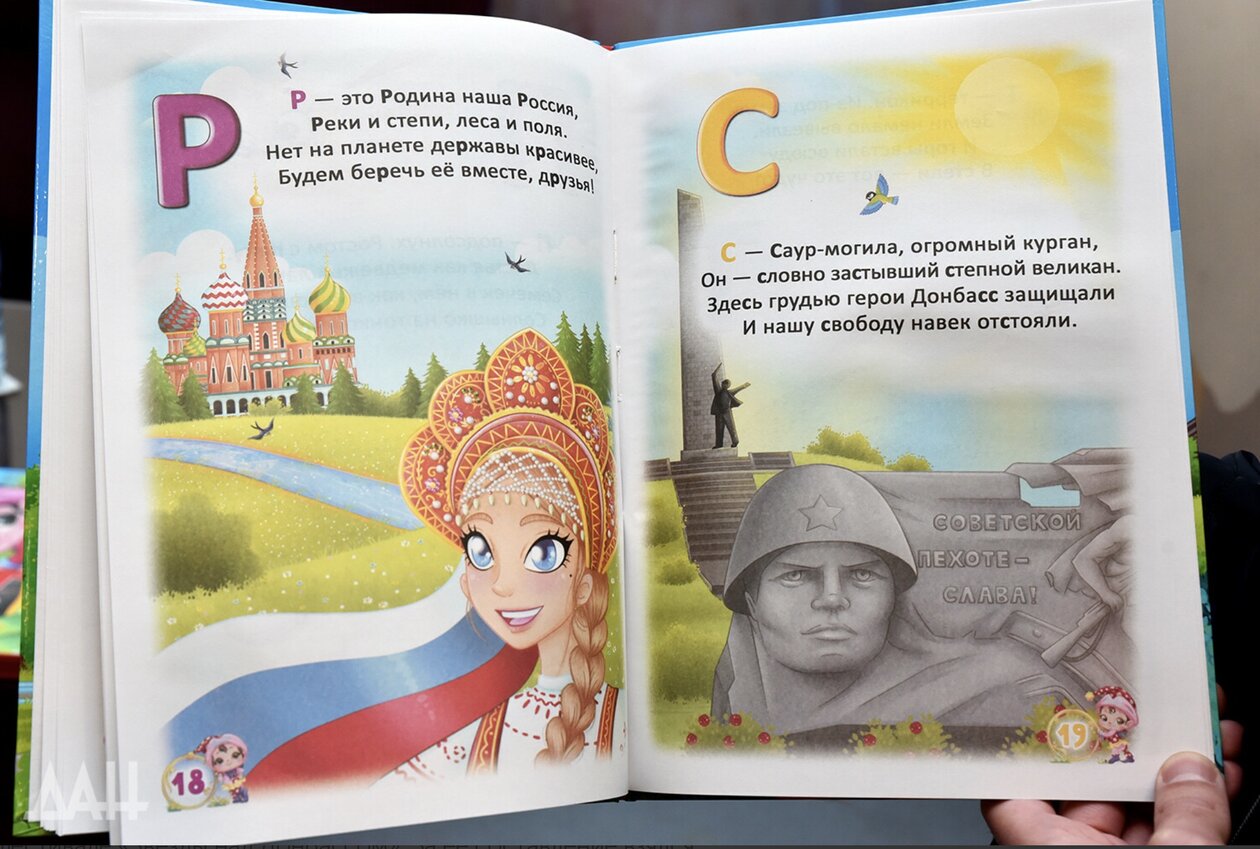 In the "Azbuka Donbasa" (ABC of Donbas) textbook school children were told, there native land is Russia. Photo: Dan-News.
The same indoctrination policy was implemented by Russian authorities in schools in Russia-annexed Crimea. Minors there were forced to enlist in youth paramilitary organizations, for instance, Young Army, to learn tactics of guerilla fighting, mines laying, etc.3  According to human rights activist Iryna Sedova, children were "indoctrinated to hate Ukraine, and to be ready to die for Russian and Putin".4 At least since 2018, Russia's occupation administration in Crimea implemented a similar brainwashing program using the Young Army in orphanages and foster homes.5
Kidnapping camouflaged as "humanitarian missions"
Concurrently with replacing school programs to indoctrinate Ukrainian children living in Russia-occupied Ukrainian territories, Russian authorities started transferring Ukrainian minors to Russia. First cases of such forced relocation occurred in Russia-occupied Donbas. Camouflaging them as "rescue missions", Russia transferred Ukrainian orphans and children with disabilities to its territory.
In June 2014, a few weeks after the start of Russia's invasion in Donbas, employees of a Ukrainian orphanage from the city of Snizhne, Donetsk region, which was already under Russia's territorial and administrative control, organized a humanitarian corridor to bring children to a safer settlement in the Ukraine-controlled territories. As a bus with 16 children and two adults was passing a Russian checkpoint, Russia's DPR militias stopped the vehicle and took away all children.6 They were immediately transferred to Russia's Rostov region. Ukraine had to issue multiple public protests to return those minors to their home country.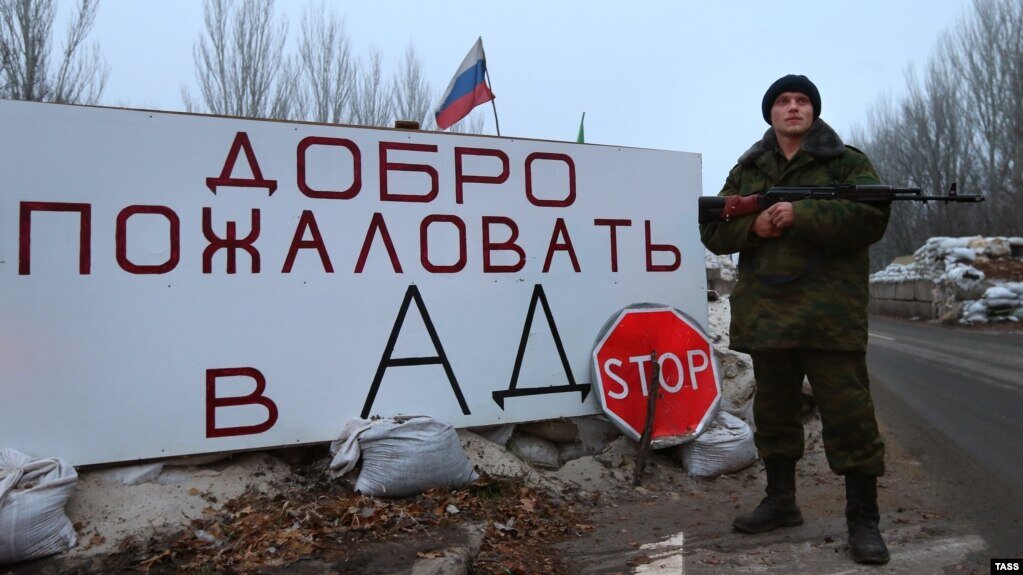 'Welcome to Hell" sign at a Russia-controlled 'DNR" checkpoint in Russia-occupied Ukrainian Donbas. Photo: TASS
In 2015, the scale of Russian kidnappings of Ukrainian minors significantly increased. One of the largest programs of children relocation was organized by Russian charity celebrity Yelizaveta Glinka. A dual Russian-US national, Glinka became famous after starting a charity organization Spravedlivaya Pomoshch (A Just Help) in 2007. Glinka, who provided medical assistance to homeless people in Moscow, quickly turned into a media celebrity under a nickname Doctor Liza. Her public image of a kind-hearted Russian woman with soft voice, blond hair, and readiness to help anyone in need, became a bestseller for Russian and international media outlets. She was called "Russian Mother Teresa". In 2012, a few months after the start of President Putin's third term, Glinka received a seat in the Presidential Council for the Development of Civil Society and Human Rights. Working with Presidential Council, she became the voice of Putin's "humanitarian" initiatives, helping the Russian dictator to polish his image, along with actress Chulpan Khamatova, a founder of the charity foundation Podari Zhisn (Gift of Life).7
In December 2014, Glinka arranged a first transfer of 13 Ukrainian children from Donetsk to Russia.8 In July 2015, she transferred another group of 34 children aged between 4 months and 16 years.9 In October 2015, as a member of the Presidential Council for Human Rights, Yelizaveta Glinka requested Russia's President Putin to amend the country's legislation to allow relocations of Ukrainian children from Donbas to Russia on the pretext of providing medical assistance. Vladimir Putin gladly delivered.10 According to Russia's state-owned news agency TASS, only in 2015 Glinka has transferred some 500 Ukrainian minors to Russia.11 Glinka also played a designated role in Russia's propaganda campaigns. She gave hours of interviews promoting Russia's policy of "rescuing" Donbas children, while openly denying Russia's military presence in Ukraine's Donbas conflict zone and called this internationalized military conflict war "a civil war between the rebels and the Ukrainian army".12 13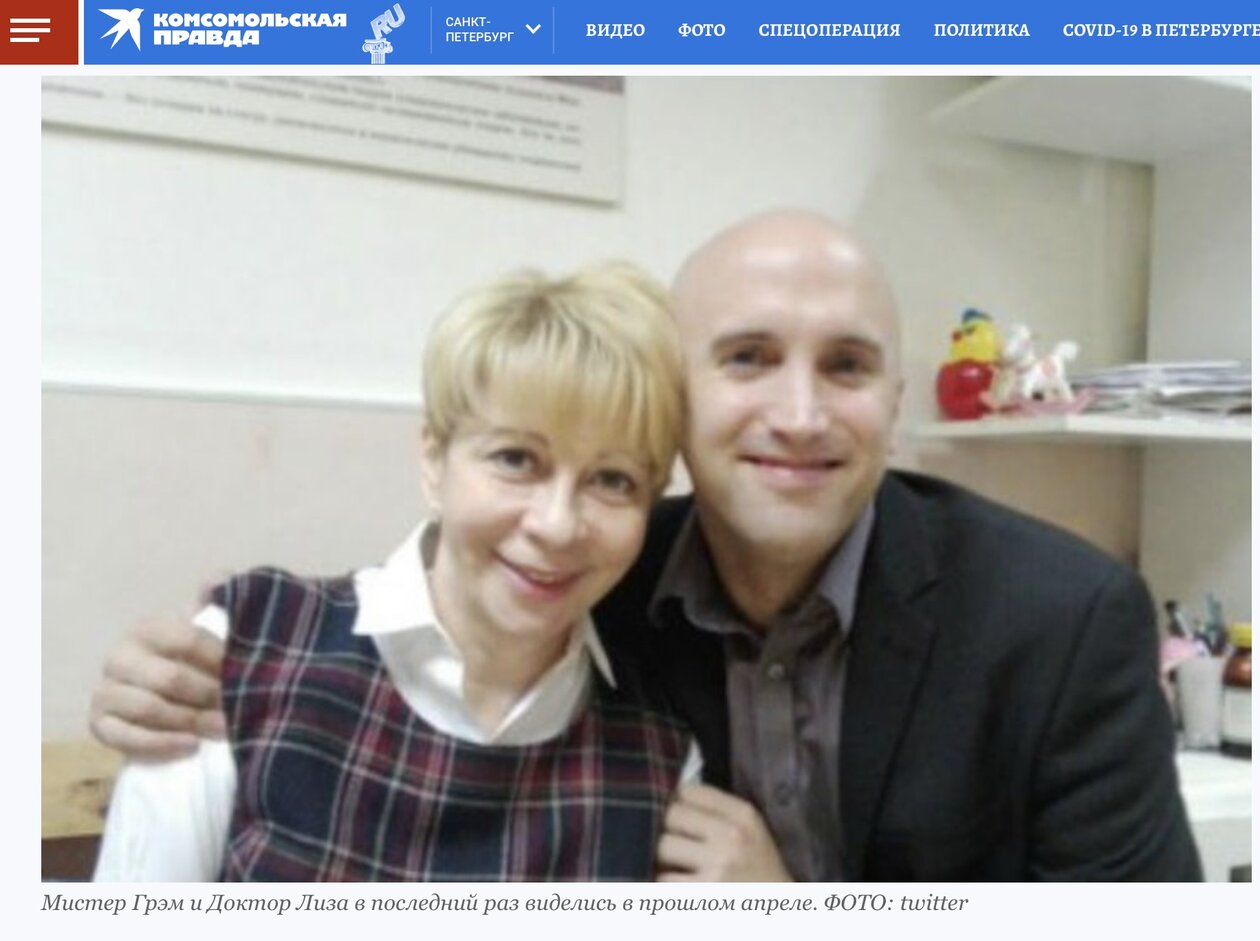 Yelizaveta Glinka with a 'Russia Today' propagandist Graham Phillip in Russia-occupied Donbas. Screenshot from KP.ru
Yelizaveta Glinka effectively established a state-sponsored system of Ukrainian children's transfers to Russia. This system is nowadays being used by Russia's current Presidential Commissioner for Children's rights Maria Lvova-Belova, as well as a TV image of a caring blond Russian woman seeking to protect Ukrainian children from war atrocities in a safe and welcoming Mother Russia. An ICC-wanted criminal, Maria Lvova-Belova has likely emerged in the Russian political arena to substitute Yelizaveta Glinka, who had died in a Russian military plane crash on its way to Syria in December 2016.14 Glinka was accompanying dozens of the Russian Army's officers and propagandists, including Anton Gubankov, the author of "The Polite Men' Hymn", a weird song gloryfying the Russian occupation of Crimea in 2014. In 2020, Russian state-controlled TV channel NTV produced a movie Doctor Liza, glorifying Glinka's life.15 Yelizaveta Glinka was played by her friend and Putin-supporter Chulpan Khamatova (who re-invented herself as a Russian emigree activist in 2022).
Erasing Ukrainian Identities
In 2022, Russia extrapolated its state-run system of children indoctrination from Ukraine's Russia-occupied territories of Donbas to other occupied Ukrainian regions. As Russia's army was suffering from one military defeat after the other and had to retreat, the country's authorities also retreated in their indoctrination methods. Instead of implementing a longer-term substitution process of school education programs, Russia decided to prioritize a practice of forced transfer of the population. Already in April 2022, Russia's Defense Ministry announced the relocation of almost 1mn of Ukrainian nationals, including 174,000 children, from Ukraine to Russia.16 Concurrently, Ukraine's Permanent Representative to the UN claimed that Russia had transferred at least 500,000 Ukrainians, including 121,000 minors, to Russia. Many of these people were purposefully transported to Russia's economically disadvantageous regions of Siberia and Far East.17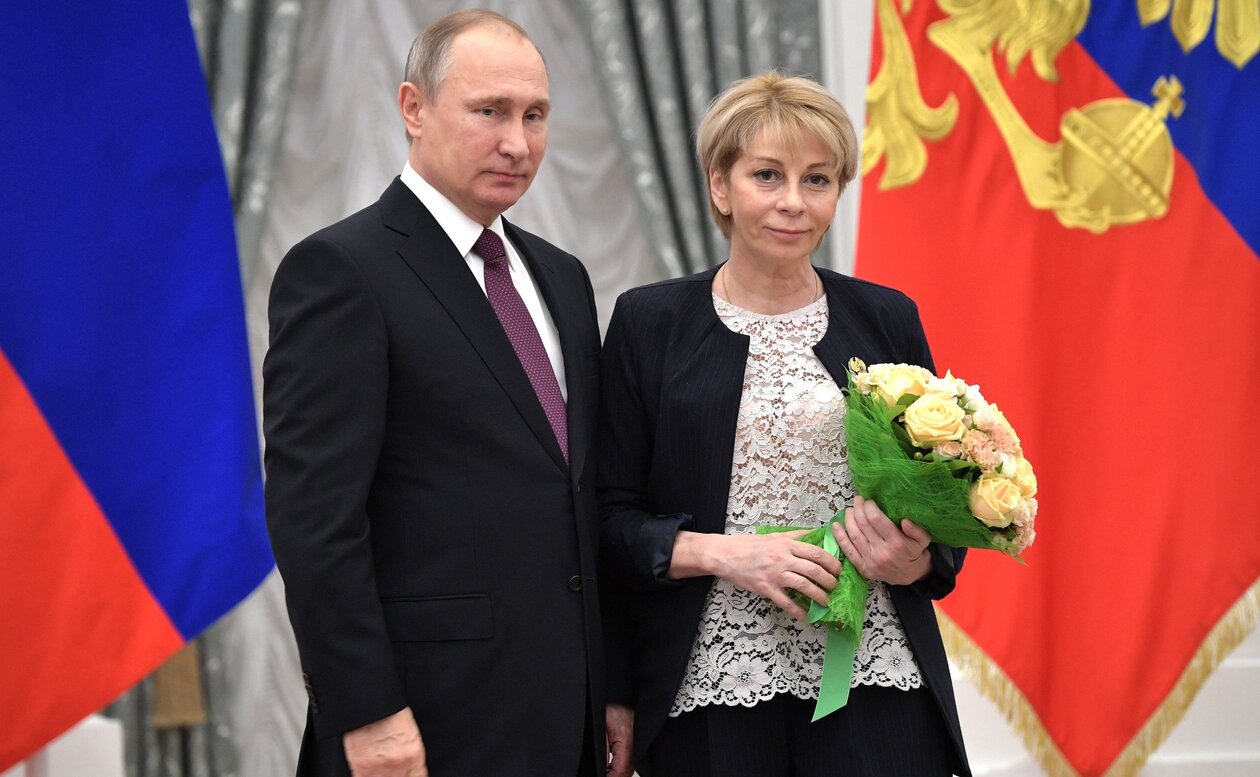 Vladimir Putin and Yelizaveta Glinka in 2016. Photo: Kremlin.ru
A missing part of Ukrainian minors' indoctrination in schools was reinstated in Russia. In March 2022, President Putin ordered the government to amend the country's law with a view to simplifying the adoption process of Ukrainian children by Russian families.18 The amended regulation allowed to designate Ukrainian children "citizens of LDNR" and to grant parental rights to Russian families with almost no paperwork under an artificial "bilateral agreement" between Russia and its puppet "partner republics".
As part of its forced relocation program, Russia emptied children's hospitals and orphanages, for instance, in Kherson region. Adopting a newly transferred Ukrainian child became a new trend Russia's Presidential Commissioner for Children's rights Lvova-Belova herself adopted a 15-year-old boy from the city of Mariupol.19 Still, the exact number of Ukrainian children, transferred and adopted in Russia under this state-run kidnapping scheme, is difficult to estimate based on information available publicly at the moment. The US-based Institute for the Study of War claimed that, according to different sources, Russia forcefully transferred between 6,000 and 150,000 of Ukrainian children to its territory throughout 2022.20 According to the Ukrainian National Information Bureau, Russia relocated over 13,000 children from Ukraine in February-December 2022.21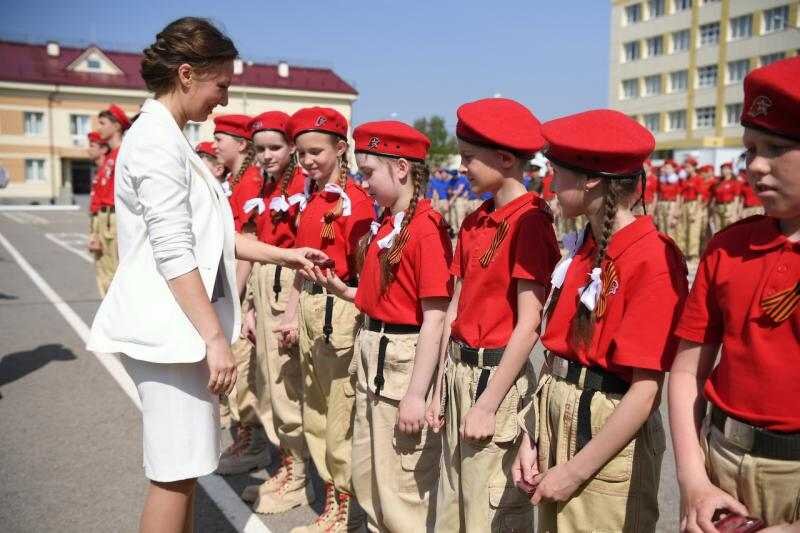 Children get indoctrinated in the paramilitary 'Youth Army' organization. Photo: deti.gov.ru
According to the Yale School of Public Health's Humanitarian Research Lab (HRL), over 6,000 Ukrainian children are currently being held in Russia's custody. Children aged between four months and 17 years are sent for political re-education in a network of 43 school facilities. " At least 32 (78%) of the camps identified by Yale HRL appear engaged in systematic re-education efforts that expose children from Ukraine to Russia-centric academic, cultural, patriotic, and/or military education. Multiple camps endorsed by the Russian Federation are advertised as "integration programs", with the apparent goal of integrating children from Ukraine into the Russian government's vision of national culture, history, and society."22 The researchers state that "all levels of Russia's government are involved" in this re-education program.
Forced population transfers, camouflaged as "humanitarian missions", aim to promote Russia's state ideology of Russkiy Mir at the price of erasing Ukrainian identities. In February 2023, Russian journalist Anna Dolgareva summarized Russia's objectives in Ukraine in a brutal, yet straightforward message: "Denazification [of Ukraine] means they all [Ukrainians] need to be killed, all adult population of Ukraine, who resists, [need to be] physically destroyed. And their children [need to be] raised in a Russian spirit."23
1. https://www.icc-cpi.int/news/situation-ukraine-icc-judges-issue-arrest-warrants-against-vladimir-vladimirovich-putin-and
2. https://www.un.org/en/genocideprevention/documents/atrocity-crimes/Doc.1_Convention%20on%20the%20Prevention%20and%20Punishment%20of%20the%20Crime%20of%20Genocide.pdf
3. https://www.youtube.com/watch?v=xFo6ZB7XirU
4. https://ru.krymr.com/a/yunarmiya-dla-krymchan-plany-rosiii-po-voenno-patrioticheskomu-vospitaniyu/31418125.html
5.https://monm.rk.gov.ru/uploads/monm/attachments//d4/1d/8c/d98f00b204e9800998ecf8427e/phpe4f6cs_pr2215-09102018.pdf
6. https://ria.ru/20140614/1011964833.html
7.  https://www.youtube.com/watch?v=X6PTaIzKqbE
8.  https://vz.ru/news/2014/12/10/719660.html
9. https://vz.ru/news/2015/7/24/757796.html
10.  https://ria.ru/20151001/1294644693.html
11.  https://detfond.com/deti-donbassa-2022/
12.  https://ura.news/news/1052278647
13.  https://snob.ru/selected/entry/83088/
14. https://www.wonderzine.com/wonderzine/life/news/223389-tu-154
15. https://www.kinopoisk.ru/film/1254059/
16. https://zn.ua/UKRAINE/minoborony-rf-zajavilo-chto-rossija-deportirovala-uzhe-pochti-million-ukraintsev.html
17.  https://zn.ua/UKRAINE/posle-filtratsionnykh-laherej-ukraintsev-prinuditelno-napravljajut-v-depressivnye-rehiony-rf-kislitsa.html
18. https://www.mk.ru/social/2022/03/10/v-rossii-rasskazali-o-grazhdanakh-rvushhikhsya-usynovit-detey-donbassa.html  
19.  https://www.unian.net/war/rf-nezakonno-vyvozyat-detey-iz-ukrainy-rossiyskiy-detskiy-ombudsmen-lvova-belova-usynovila-odnogo-iz-nih-12024948.html
20. https://www.understandingwar.org/backgrounder/russian-offensive-campaign-assessment-november-16
21. https://www.currenttime.tv/a/v-hersone-ne-ostalos-detey-ni-v-odnom-detdome-vse-vyvezeny-okkupantami-kak-s-okkupirovannyh-rf-territoriy-propadayut-nesovershennoletnie/32167796.html
22. https://hub.conflictobservatory.org/portal/apps/sites/#/home/pages/children-camps-1
23.  https://twitter.com/Gerashchenko_en/status/1626266991739666434